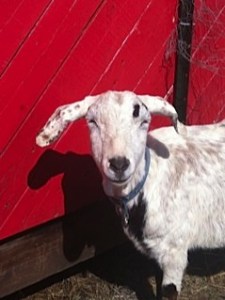 Our goat, Lady passed away yesterday. It is always sad to have a pet leave us. Lady was a lovely sweet goat with soft eyes and floppy ears. We found her on a neighbour's farm – we were looking for a friend for Millie. Millie had gone from a free range goat spending most of her time with the dogs or standing in the window well on the front porch and was relegated to the newly constructed goat palace and I knew she was lonely.
So off we went in search for a companion. Carlyle selected Lady out of a small herd on the farm and she became Carlyle's goat. Lady, it turned out, was pregnant with twins as Carlyle discovered after the first kid was born. Carlyle was there helping Lady give birth and then noticed another hoof…she gave a gentle pull and coached her goat to give birth to another beautiful little kid. It was a lovely experience for us and for Carlyle to guide Lady in caring for her new little family, hovering in the background to let nature take its course and making sure the nursing process was going smoothly. Lady assumed the role with little difficulty and it brought our human family a little closer together. Lady was the gentle one of the goat group, and the most friendly. (Millie managed to emerge as the "alpha" goat making sure she bossed everyone around).
She was a good mother caring for her new charges but mostly, she loved being outside on the south side of the goat palace where she spent the day protected from the wind soaking up the warmth of the sun. I had a little routine with her, when I was on "goat duty" in the mornings, opening up their door to the outside. She always was the first to greet me letting me stroke her nose and scratch her ears. "Good morning little friends!" I always said that for some reason, and out she hopped into the sun. That was my last image of her and that is where we found her, laying in her place on the south side of the goat palace, soaking up the rays no doubt when she left us for good. We will miss you little friend.
---
Millie, and all of our beloved animals out at the farm, provide no shortage of entertainment, which is why Millie's Corner was born – so we can share these stories with you. From goats eating wedding flowers to dogs riding in the Gator, sometimes we think we have seen it all…