Add MediaInsert Download VisualText
Periodically we profile artists, influencers, people that make South Pond the magical place that it is for me and for others. John Matchett also known as John the Carpenter is someone that has made South Pond that special place.
I came to know John via his wife, Barb Newman who has been painting and decorating here as long as I have lived on the farm. Barb was even profiled on one of our Taste of the Country TV shows about how she turns even the most unattractive watering can into a piece of art. She introduced me to John as being able to fix and build things and in fact he does. But he does more than tinker, he creates beautiful and creative, purposeful things out of wood, metal and other discarded objects lying around. From breadboards to mobile chicken houses, John is one of those secret weapons that every business (and household) needs to have.
Chicken cork made out of wood

John was raised in Miramichi, New Brunswick and travelled west to our area to help a friend build a house. One thing led to another and he never left this area. At the early age of seven, he expressed interest in carpentry and began making things out of wood. He was greatly influenced by his father who made all his creations with axes (no easy feat!): handles for tools, bob sleds, log dog houses, cedar darts with chicken feathers, so many things. John is like this as well. One of the things he made for me were corks made out of wood with a chicken carved in the top, candle holders made out of expired light bulbs, hangers for keys and things made out of wire, even the pot holder for my cast iron skillets is handcrafted from copper piping and then hand made S hooks. One of the more creative projects was arriving one day with a red hay wagon which he then reconstructed into a mobile chicken coop. Barb of course, painted it my favourite colours and the chickens (and the goats) love that little house. John also makes our salt and preserve spoons out of maple, walnut and cherry wood. They are delicate and lovely (and available for purchase with or without or products on our web site).
Salt and preserve spoons
If you ask John what is the one thing he is passionate about, it is using his hands to create something that is personal to him. All of his creations are unique, one of a kind. Not one is like the other. His future projects, aside from coming up with ideas for South Pond, are creating live edges with his chain saw. Maybe a modern day version of what his father used to do. I'm looking forward to seeing the results.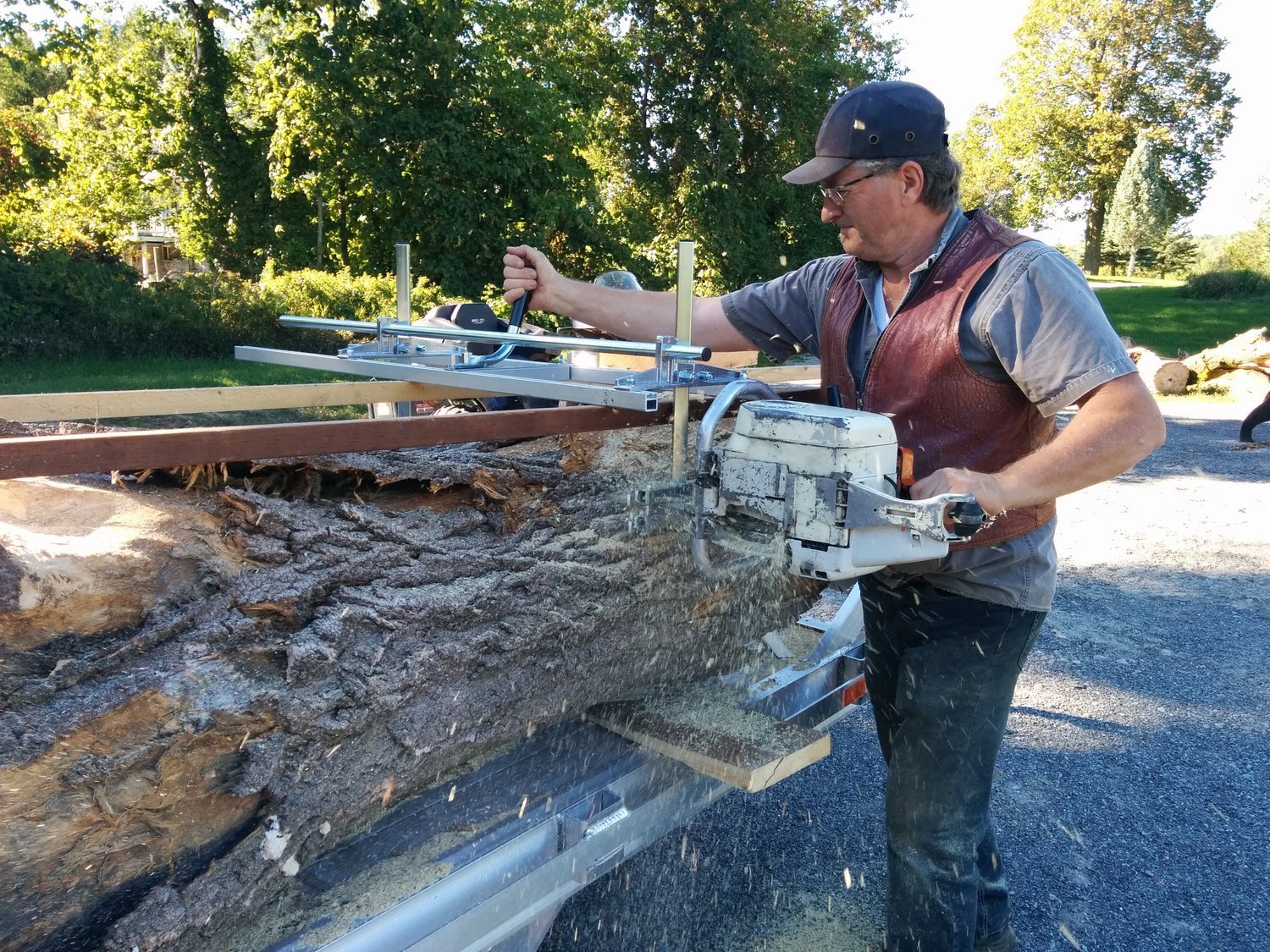 John tackling a very large fallen tree for future creations.