The washrooms are starting to take shape!
As with all construction projects, the part we'll see when they're finished represents a tiny fraction of the work that went into them. Kind of like that thing about nine-tenths of an iceberg being underwater, I guess.
A place for… sewage!
The actual building is the tip of the iceberg.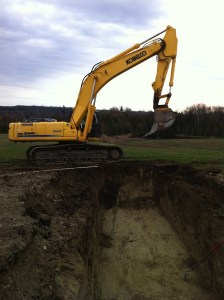 Anyway, what really matters is that come the warmer months, we'll have comfortable, appealing washrooms for our guests to use. And as long as they're happy, the discombobulation that went into the excavation and construction are worth it. I think.