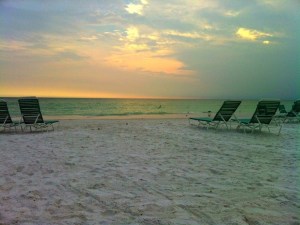 I was visiting my friend Karen at her house in Florida not long ago. There was a warm breeze outside and the sun was sparkling. As a lazy day flowed along, it seemed fitting to serve a delicious little treat with a glass of wine. These crostini are not so easy to eat—they break my "one-bite" rule—but they are worth it. (One of these days I might just try making them on tiny baguette toasts or cut them in half so they can be popped in your mouth.) They are adapted from a recipe in Ina Garten's Barefoot Contessa Foolproof.
---
In a bowl, combine well: 1 cup cherry tomatoes, ideally different colours, sliced 2 tablespoons red wine vinegar or balsamic vinegar 1 teaspoon salt 2 cloves garlic, minced 1/2 shallot, minced.
Let this mixture sit for about an hour.
Cut a loaf of really good French bread or ciabatta, into very thin slices, brush with olive oil and bake at 350º for about 20 minutes or until lightly browned. Set aside to cool.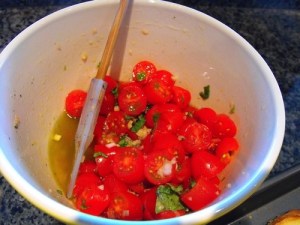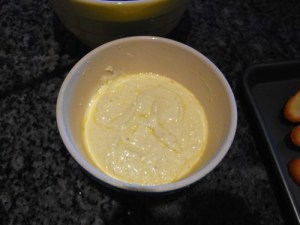 While the bread is toasting, whisk the following ingredients together in a food processor or by hand until you have a creamy, frothy, delicious mixture. The result is wonderful as a spread for sandwiches, as a dip for vegetables or for just about anything you can think of!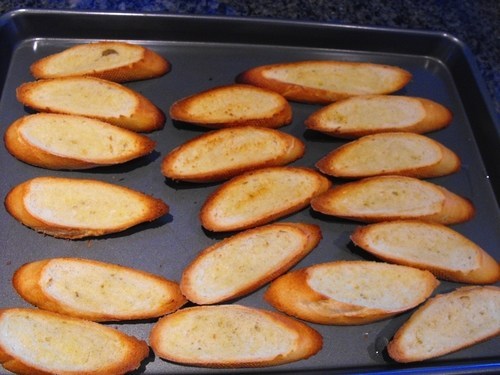 1/3 package plain cream cheese 1/2 cup feta cheese 1/2 cup olive oil 1/2 teaspoon salt pinch pepper juice of half a lemon, freshly squeezed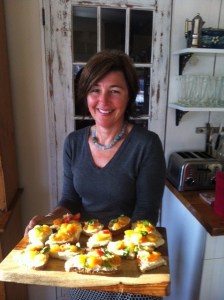 Add more olive oil if necessary to make a spreadable consistency. About half an hour before serving, spread the feta mixture on the toasted bread and top with the tomato mixture. Sprinkle with minced or torn fresh basil. Close your eyes and pretend the sun is shining, because when you taste these crostini, you'll feel like summer is with us!