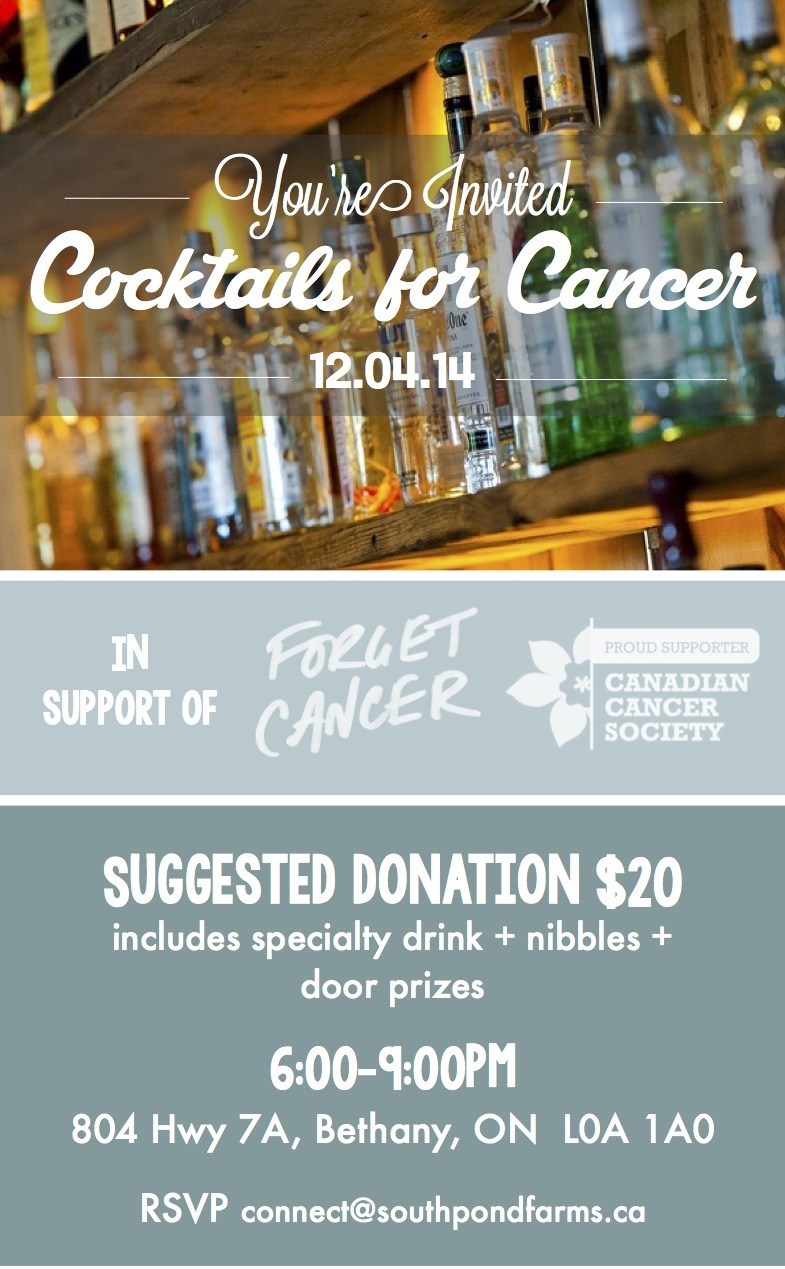 Please join us for Christmas cocktails on December 4th at Shawn's to support our friend, Nick Imrie and his goal to raise money for cancer research through his Forget Cancer campaign.
I first met Nick two years ago when Amy introduced him to me to tend bar for one of our events. Amy says "you probably have seen him around town, he's tall and he has a bun." I'm probably a bit out of touch but I wasn't really familiar with the whole hair in-a-bun thing for guys. In fact, I hadn't really met a man with his hair in a bun – this is probably a function that I do not get out much. In any event, Nick turned out to be a totally great guy (tall) with his hair in a bun and when he lets it down – it is a mane. It is like we would imagine someone wandering in the dessert dressed in blankets with a shepherd's crook to look like…
Nick has become a bit of a permanent fixture around here, he tends bar every summer weekend, he flair bar tends, in fact, many weeknight evenings, I would hear him and Carlyle in the barn, Carlyle practicing with one of his bottles – crash, laughter, crash again…until she was getting pretty good! (Another story soon to come is "How Aubrey Rose chipped her tooth"!) He does a variety of errands, he completely embraces all of our ideas, he comes on field trips with us like when we went
to Prince Edward Countyto visit the new Drake hotel and 66 Gilead Distillery, or the Tree House or Spirit Tree Cider (yes, there is a theme here and it is either food or liquor). He also drives Olivia to Rugby when I'm somewhere else, takes care of the animals when we are gone, cuts wood, takes back empties, or chaperones a birthday party. He is indeed a man of all trades and we all love him.
Come have some cocktails, some nibbles and don't bring a gift – make a donation!
We are holding a little get together at Iron Horse Ranch to celebrate the season and to celebrate Nick. He cuts his hair on December 20th and I'm not sure I will miss it – but many will- he will no doubt be better looking. I'm a bit of a traditionalist with these things.
R.S.V.P danielle@southpondfarms.ca or connect@southpondfarms.ca or just give us a call 705 277 1649!