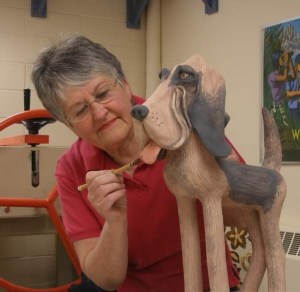 I'm really looking forward to seeing Barb's work at the farm. Dale Sutton, a local fibre and mixed-media artist who is helping put together the lineup for Art in the Fields remembers "meeting" Barb's work before she met the artist.
---
"A dear friend had been raving about Barb's whimsical and wacky pottery, and finally showed me her collection: a series of eight fence post-toppers that immediately had me in stitches. Clearly Barb was a potter with a great sense of humour, but also was a master of her craft. Her intricate detailing, her ability to capture a look, a feel, a joke in the expression of her characters made me realize she was unique."
Indeed, it seems Barb is as unique as her pottery. She has pursued many artistic endeavours over the years, often helping out school groups and working to promote young people's artistic development. She has received several Ontario Arts Council awards and teaches classes for local galleries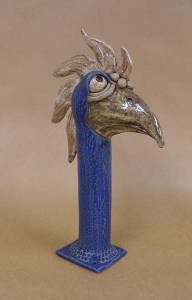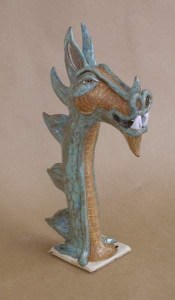 Barb has tried her hand, successfully, at more art forms than you can imagine, but always comes back to pottery, using high-fired stoneware clay. She creates functional pieces such as casseroles, mugs and teapots in addition to sculptures. Some pieces are thrown on a wheel, while others are made from slabs.
At Art in the Fields, we will mainly be featuring Barb's outdoor garden "decorations," as she calls them, and while they will include those famous fence post-toppers, there should also be bird baths, bird houses and whatever else emerges from her fertile and ever-creative mind!
Art in the Fields runs from July 1 to July 7 at South Pond Farms from 10:00 a.m. to 6:00 p.m., except for July 6 10:00 to 1:00. Join us for an opening reception on Sunday, June 30 from 1:00 to 5:00.