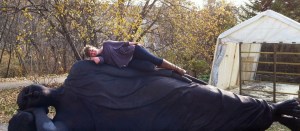 "By choosing art my life has become art and this feeling of joy is reflected back into each sculpture." That lovely sentence from Don Frost's website really sums up his work perfectly. When I look at his graceful, exuberant work, I absolutely feel the sense of joy that went into its creation. It will be a beautiful addition to Art in the Fields at South Pond.
---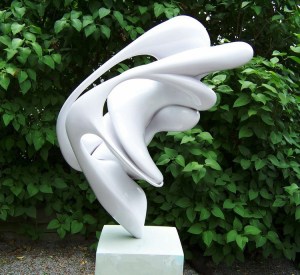 I met Don through another Peterborough-area artist who will be represented at Art in the Fields, David Hickey. Don was not only born in Peterborough, that is where he had his professional start, with a commission to build a 15-foot-high sculpture for a mall. Since then, his sinuous sculptures have become hugely popular with purchasers as diverse as Dr. Michael and Mrs. Marlen Cowpland, who acquired 41 of his pieces for their Ottawa collection; a Marriott hotel and a children's hospital in Virginia; the Saudi Arabian royal family, which purchased four large works for their sculpture garden; and a couple from nearby Chemong Lake who commissioned this huge reclining Buddha.
Among Don's proudest achievements is this metal work, The Resurrection Cross, commissioned by the Peterborough Victoria Northumberland and Clarington Catholic District School Board to stand outside its Catholic Education Centre.
Don likens the experience of viewing his work to hearing beautiful music. I would suggest it also offers a glimpse into the true meaning of the expression "poetry in motion."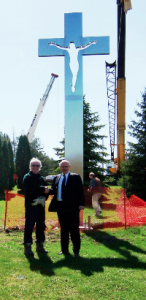 Art in the Fields runs from July 1 to July 7 at South Pond Farmsfrom 10:00 a.m. to 6:00 p.m., except for July 6 10:00 to 1:00. Join us for an opening reception on Sunday, June 30 from 1:00 to 5:00.