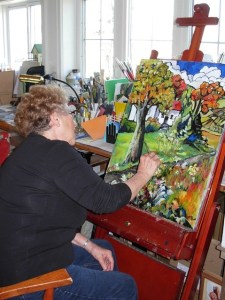 I continue to be drawn to people in the neighbourhood who share my attachment to this beautiful part of Ontario, and Judy is yet another of these amazing people. I just recently heard of Judy, and I am looking forward to sharing her artwork with all of you.
---
Judy and her husband moved into the Kawartha Lakes area about six years ago, and totally refurbished a rundown farmhouse with the most spectacular view. In the process, Judy got an amazing art studio where she captures the beauty of the Rolling Hills area around Bethany.
She describes herself as an "A-D-D artist who paints for tranquility." The vibrancy of her colour palette certainly reflects that description. She has experimented with oils, watercolours, acrylics and encaustic, and regardless of the medium, her keen eye for form and colour come through. It is amazing to watch her work in acrylics as she slaps down the colour and gets in with her hands to create the base, and then builds detail in layers.
When asked to describe why her art is important to her, she says,
---
"Artwork takes me out of myself and into myself—the emotions and things that I want to express. It helps me to see myself better and discover that most things don't really matter. It gives me freedom."
---
Art in the Fields runs from July 1 to July 7 at South Pond Farms from 10:00 a.m. to 6:00 p.m., except for July 6 10:00 to 1:00. Join us for an opening reception on Sunday, June 30 from 1:00 to 5:00.[vc_row][vc_column][mk_fullwidth_slideshow images="11185,11186,11187″][/vc_column][/vc_row]