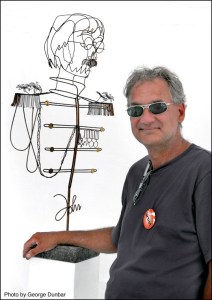 One of the most exciting things about Art in the Fields at South Pond in July is the range of art we will have on display. Take the wire creations of Rudy Kehkla. I first saw his outdoor sculptures at the Artful Garden show near Bracebridge, Ontario. This show is an inspiration to me and has been a showcase for artists for more than 15 years. Rudy had an abstract mobile on display and the light and breezes highlighted the piece magnificently. I contacted him after seeing his work and am so pleased he will join us here for our first show!
---
I am fascinated by Rudy's description of his art—he says he really works with air; he just encloses it and shapes our perception with wire. (He has posted short videos of some of his sculptures on his website so you can see them from several perspectives.)
Many things have led Rudy to this point. A degree in science that included courses on anatomy and physiology helped him understand human and animal bodies. Training as an architect gave him the ability to visualize things in three dimensions. But when it comes to his art, he feels he is self-taught. I cannot wait to see his expressive and engaging work at the farm!
Art in the Fields runs from July 1 to July 7 at South Pond Farms from 10:00 a.m. to 6:00 p.m., except for July 6 10:00 to 1:00. Join us for an opening reception on Sunday, June 30 from 1:00 to 5:00.[vc_row][vc_column][mk_fullwidth_slideshow images="11227,11228,11229″][/vc_column][/vc_row]