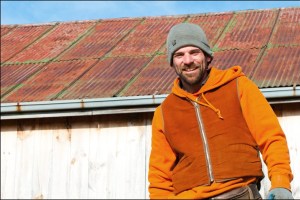 Elsewhere in this blog, I have referred to Shawn Sutcliffe, my significant other (for lack of a more grown-up term). He has another Shawn on his crew, Shawn Cameron, whom I first met during the restoration of my barn. Shawn C. is to woodworking what Shawn S. is to landscape design—they share a quiet passionate and a flair for revealing beauty in what the rest of us perceive as humble, even ignored elements. It is good, then, that they work together: Shawn Cameron creating eye-catching, painstakingly crafted structures on the canvas Shawn Sutcliffe has conjured up from hills, water and woods.
---
I am so pleased Shawn Cameron will be part of Art in the Fields at South Pond farms during the first week of July. He is a true craftsman—his artistry and creative workmanship are extraordinary. Each one of his pieces is unique, inspired by material, often salvaged, with a story to match.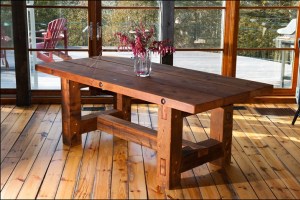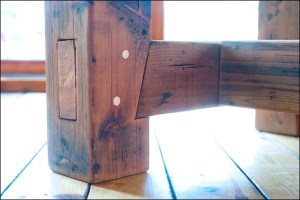 Aviator Dining Table
Shawn crafted this substantial table entirely from salvaged material, most of it from a pre-Second World War air force hangar in Prince Edward County. His skill shows up in the mortise and tenon joints—he didn't use a single nail. One bolt running the span of the tabletop holds it all together.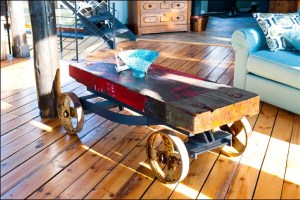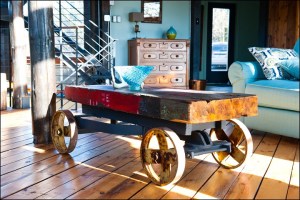 Aviator Coffee Table
I love this piece—somehow, it is both rustic and sophisticated. Shawn used a solid steel farm utility cart and a piece of salvaged fir; this piece is made from 100 percent reclaimed materials.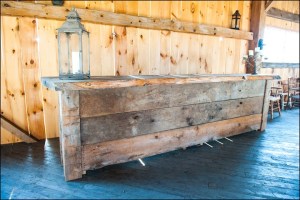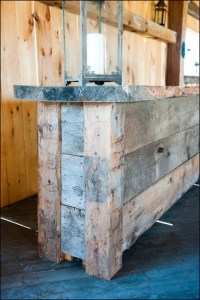 South Pond Bar
Shawn created this rustic bar in the barn at South Pond using wooden pegs to join thick, heavy boards that used to form the granary. The top is a single piece of pine taken from a huge tree struck by lightning.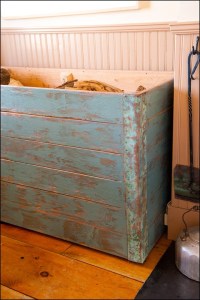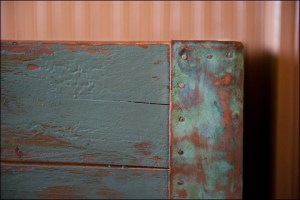 Wooden Box
This piece imparts that beautiful, subtle cedar scent towhatever is inside, or to the room around it. Shawn used wood taken from the interior of a commercial farm and country co-operative store, joined with reclaimed copper once used to roof a schoolhouse. Hand-mixed paint applied by cloth and a water-based glaze finish create a natural look.
Visit Art in the Fields at South Pond Farms, June 30 to July 7, to see work by Shawn and many other gifted local artists and artisans. Visit the South Pond Farms website for updates on events and participating artists.