MILLIE'S CORNER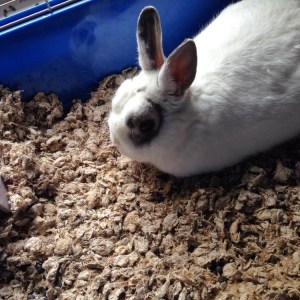 Last week Casper hit the jackpot. Who is Casper you ask? Casper is the farm rabbit (appropriately named due to his white fur). As a bunny he was terrorized by Nim and I was scared he was going to have a heart attack, so we built him a rabbit house outside next to the secondary goat pen, with the idea that they would keep each other company. Here is where Casper would stay in the summer, and in the winter he was moved into the goat paddock – aka the goat palace. This past winter the girls even built him his own little castle in his stall out of hay, so he had various levels to wander and explore under his heat lamp.
I will admit though, that if the farm were turned into a Winnie the Pooh storybook, Casper would not likely play the part of Rabbit as you would suspect, but rather Eeyore – rather unfortunate and often forgotten about. Most of our staff are surprised to learn we have a rabbit, even after months of working here! I suppose no one really talks about him and he doesn't get the same attention from guests at weddings like the goats or dogs do. Millie is clearly the celebrity of our hodgepodge group – she has a column named after her after all! – and I'm always surprised at the number of people who come to the farm who ask about her. With Casper, I'm just happy if someone has remembered to feed him.
So as Fall arrived and temperatures started to drop, it was that time of year when Casper would need to be moved into the goat palace, and I just couldn't do it. He was the underdog, the loner, and I felt bad for him, so instead I decided he should go somewhere that he couldn't be forgotten about – the house. Casper is now the new proud resident of the farm house mud room, where the girls and I see him everyday. I now don't have to worry about whether he's been fed or not and I'm sure he feels like he's just gone from a motel to the Ritz-Carlton.
---
Millie, and all of our beloved animals out at the farm, provide no shortage of entertainment, which is why Millie's Corner was born – so we can share these stories with you. From goats eating wedding flowers to dogs riding in the Gator, sometimes we think we have seen it all…