My father, Tom French, lives with my mom and their dog Arthur the golden retriever in the house I grew up in up on a hill in Brattleboro, Vermont. My dad is the eldest child of my grandparents, Tom and Isabel, that I write about frequently both in my books and on my blog. They had a 100-acre farm near the shores of Lake Michigan and I was fortunate to spend some of my summers there. My grandparents were sort of homesteaders in many ways, growing their own food, preserving everything in their root cellar, baking their daily bread. My father often talked about having to go out and milk the cow before heading off to school. My dad is now 84. He retired reluctantly four years ago, taking the sign off his building where he practiced law for nearly 50 years in our small town of Brattleboro and headed up the hill to home.
My dad graduated from the University of Michigan and Wisconsin law school but he had a travel bug and decided that if he joined the airforce he might also have the opportunity to see the world. He did. My dad is one of the most well-traveled and knowledgeable men in both geography and history that I know. He met my mom in Germany after being promoted to captain and transferring to Wiesbaden Germany as a Staff Judge Advocate. He practiced general military law, prosecuted and defended many general and special court-martial cases.  He also represented both officers and enlisted men in administrative board hearings, acted as counsel to the Air Force Hospital attached to the U.S. Air Forces in Europe Headquarters. My mother was at that time an interpreter and translator for the Commander at Wiesbaden Air Force Base. They fell in love and the rest……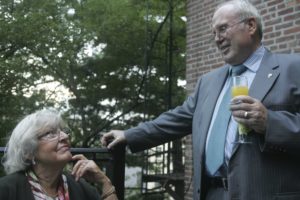 Deciding to move back to the US, my dad looked on a legal employment board finding two opportunities. One in Savannah, Georgia and the other in Brattleboro, Vermont. They visited both places and decided to move – with my brother Tom and me – to Brattleboro, a small town of about 11,000 nestled in the southern Vermont hills.
My dad later opened his own law office in Brattleboro representing individuals and corporations in a bit of everything: personal injury, contracts divorce, bill collection and estate as well as real estate immigration, military law, bankruptcy, trademark, and patent. Even though we lived in a small town, his practice had an international scope representing clients from Europe, China, and Australia.  In 1989, my dad was invited by the U.S. State Department to be a member of a 750 person delegation to "assist the Soviet Union in its legal and economic restructuring". He even attended several conferences in Moscow.
I say that my dad retired from his law practice reluctantly because he loved the law, he loved his clients and he loved driving the short way down the hill to his office in West Brattleboro. When he knew that retirement was on the horizon, he spent many months re-thinking his life, wondering what next steps might be and I know it was a painful time for him. It's that time of your life when you know it's time to make a change but you don't know what is ahead and it's frightening and you are not yet mentally ready for old age. Both my brother and I knew my dad wasn't going to play golf, sit by a pool or tinker in his garden – although he loves his blueberry and raspberry patches.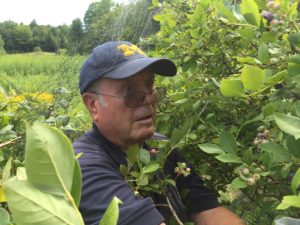 I'm not sure exactly when this idea actually became a reality but one day he announced that he was going to volunteer to help veterans with any legal issues they might have and go once a week to the Brattleboro  Post #5, American Legion building and see if anyone might need some assistance. He was aware for quite some time that veterans were largely unrepresented in their efforts to obtain legal entitlements to their pension and disability benefits.  His own personal experiences as an officer with the military as well as his legal practice was a perfect combination to offer veterans advice and general help in gaining access to information and assistance. The process that veterans have to follow to navigate its bureaucracy is complicated and tedious. He felt that he could be of assistance. So he applied and became a VA approved attorney.
For most of the first year, he traveled the 8 minutes into town and sat at a desk waiting. No one came but he was diligent, keeping "office hours" every Thursday. He spent his time studying manuals and veteran documents, meeting people who dropped in.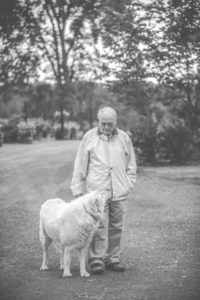 After about a year in late 2016, finally, through word of mouth, he met his first client.
It is difficult for many veterans to understand how to make a claim, the forms are tedious and the criteria for application are difficult. There are disabilities resulting from combat or contaminants in weapons, living conditions such as breathing in asbestos, water contamination many causing cancers later in life, disability, PTSD, there is a long list of serious issues that veterans deal with after giving service to their country. Some of these disabilities and health issues may not be revealed for decades. It was apparent to my dad that many veterans couldn't actually figure out how to make claims, that the criteria forms were complicated and they were unsure of what type of evidence was required as part of the submission. Some claims had been filed but were lost in the system. The process was exhaustive.
My Dad is someone with a lot of patience and he happily dived deeply into this work. Over the few short years, he has been involved with the VA, he has successfully resolved 14 out of 15 cases giving those veterans the payments that they deserved. He has many more cases pending. He has a renewed purpose in life besides his home and family he loves. Every morning he arrives at his desk, now in the living room, and works through emails and case law. He meets up with my mom for lunch and she drags him to tai chi classes and of course, he walks the dog. But then he gets back to his desk. He meets regularly with his veteran clients on Thursday in the VA office. His week is full and I dare say many weeks he works as hard as he used to before retirement. He also loves it and with every case, he is more and more knowledgeable. He has given back in such an enormous way to his community and the community of veterans. It's important work. We are all so proud of him. Happy Father's Day to all the men we are proud of.