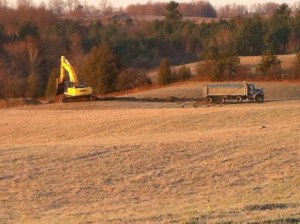 Until not long ago, most Ontario farm families grew or raised nearly all of their food, drank water from a well on the property and may have cut all their fence posts and firewood there, too. My neighbours farm hay, barley, wheat, soybeans and corn, and raise beef cattle and sheep. Not far away there are dairy and hog farms, as well as market gardeners and tree nurseries. The south part of Kawartha Lakes is a fertile spot.
But these days, South Pond is providing a different kind of abundance: gravel, dirt and sand.
Construction of the washrooms requires truckload after truckload of material, but fortunately, we have lots of it right on the property. The crew has been excavating earth to create the building site, trucking gravel and sand from one part of the farm to furnish a huge septic bed, and moving topsoil to create a fertile growing area when everything is back in place.
I marvel every day at what the land can provide.