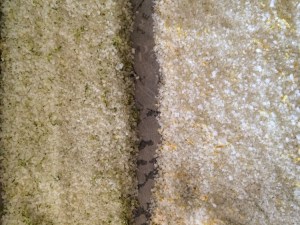 Do you love an afternoon coffee or tea? Do you savour it or take it to go in your car? Amy and I do and we savour it enjoying the cup, the warmth, the scent. Especially this time of year when the wood stove is fired up we both sit right next to one of the two fires going, working away. Usually, mid afternoon one of us will make tea. We have about 1000 in our collection, in fact one shelf from pantry is devoted to tea and the other to various honey, maple syrups, organic cane sugar, coconut sugar, regular sugar, agave syrup… the list could go on.
This afternoon, while organizing the spice drawer, I made a new and perfect cup of tea. It might be called, the eastern spiced pick me up – it doubled as a beverage and a fresh out of the oven molasses cookie! I mixed a few chai spices with an orange herb blend black tea, heated and frothed milk, rimmed our cups with apple spice sugar and topped with a 1/4 tsp of coconut sugar – my new favourite slightly nutty sweetener. This was really good. It smelled good, it tasted good, it hit the spot. It felt like fall and Christmas at the same time.
---
We have been busy making up gift baskets for the holidays. Our new addition is a collection of hand made spices and drink rimmers. Here is what the layout of the South Pond spices and rimmers look like:
Rimmers
Apple Spice Sugar Rimmer for hot apple cider or tea and coffee
Spicy Chilli Rimmer for the perfect day after caesar
Zesty Lime Sugar Rimmer for all your favourite lime based cocktails: mojito, margarita, caipirinha
Mulling Spices – think red wine!
Cocoa Peppermint perfect with hot chocolate or coffee spiked or plain!
We've also got a few popcorn seasonings that are a personal favourite around here:
Parmesan
Rosemary
Dill
Salt and Pepper
And for cooking
South Pond BBQ Rub-a great all around rub that I use for chicken, pork and fish
Danielle's Steak Rub My own Herbs de Provence – the best on pork or fish of any kind!
Lemon Salt
Fine Herbs Salt
Finally there is Za'atar – the essential midwestern spice but can be used before or after cooking: sprinkle on bread dipped in olive oil, on pita sandwiches, on dips like hummus before serving (making it a little your own if you've bought a dip!), on chicken before grilling or in salad dressing
---
Salts can we ever have too many?
The other part of the pantry is devoted to my salt collection: grey coarse hand harvested from France (my personal favourite – hard and full of flavour and when it hits your mouth in your salad, it's like having a pop rocks candy! Flakey maldon, kosher, pink from the himalayans, pickling, sea salt both course and fine…as I write this I realize it sounds like the tea collection…clearly a pattern has taken place.

All our spices and salts are made with natural ingredients, no artificial flavouring, no additives. They are packaged in a lovely 2 ounce homestead style glass jar with glass lid, wrapped with ribbon. Each are $5 and 4 for $18. Include them in one of our gift baskets or make up one of your own.