[vc_row][vc_column][vc_column_text css=".vc_custom_1557914351177{margin-bottom: 0px !important;}"]
Working from home
When I moved to this farm, I never thought I would start an event based business nor did I think my home would have such an impact on my business and the other way around. Things have evolved over the past 12 years from family homestead to a thriving home-based event business. In our first season at the farm, the house badly needed improvements; new roof, plumbing and electrical, the rooms hadn't been painted in decades, the floors redoing. There was a large two car garage attached to the house that had been added much later to the original 1860's farmhouse. Not needing the garage, we converted it into a family room with windows on three sides facing east, west and south. It is a sunny spot with a perfect view of the barn and the fields. The downside, the room is not well if at all insulated and we froze that first winter until we put in a small propane stove. Nevertheless, with a TV, a table for school projects and comfortable seating, the girls and I lived in that room watching endless reruns of Gilmore Girls, doing homework, playing board games.
Humble beginnings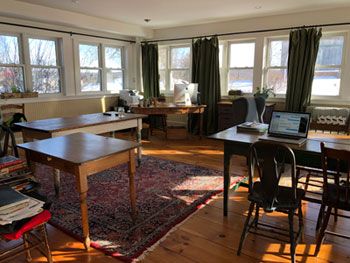 The first few years, the family room remained just that. I had a small space off the kitchen with a desk that I used for an office, finishing up my design work in the city, or corresponding with friends and then later, managing the mailing list and orders for my new food delivery service – Farm Flavours. This small office space wasn't insulated either but I had a heater at my feet which made it tolerable in the colder months. Over the next couple of years, things began to get busier. Now we were holding weddings at the farm and I needed filing space for correspondence and accounting and then an employee joined us and then more employees.
I took a little corner of the family room over for all of the goings-on. And so, it began. A little corner became a larger corner and then a few years ago, I asked the girls if I might claim the entire space. The girls understood and were supportive but despite their good humour, it was another way that the business infiltrated our family life and gradually over time, losing more and more of our privacy. This is definitely the challenge of having a home-based business.
Having possession of the family room, over the years, I moved the furniture around a dozen times. Moving desks in for more staff, struggling to maintain a comfortable seating area selfishly for me to use in the early mornings with coffee and watch the sun rise while writing or going over emails. Product sales also played a role as we needed a place to sell our jams and aprons, books, bread bags, and soaps. Down came the books and games off the shelves and the retail conversion took over!
Retail Development
This past winter, I came up with the idea to move the retail into the guest cottage and experiment with another dream – of having a real shop with our own products combined with local artists and purveyors. I dream of a cheese counter, a refrigerator for dips and take-out meals, a place to hang art and a cozy spot for a cup of coffee and a baked treat. The cottage seemed like a great idea. In principle, it was a good idea but it was awkward to get to in the winter and would need someone to attend to it. We are already off the beaten path in the summertime, in the winter we are really off the path so the shop moved back into the office requiring yet another rearranging of all the furniture.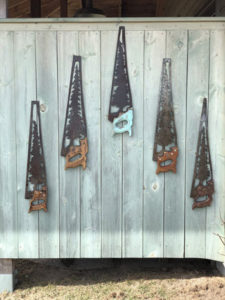 This summer, I'm moving closer to the idea of connecting with local artists to have their work here on the property and in the shop with our own products. I have beautiful charcuterie boards from Dave Brett who lives close by, Barb Newman's soaps and her husband John's wood salt and cooking spoons. Garrett Gilbart @Burn_Island attended one of our Full Moon suppers and spoke about the possibility of having it here on display.
As of last week, his beautiful antique and intricately hand-cut farm tools with designs inspired by the Arts and Crafts Movement are anchored all over the grounds. I'm thrilled to have his work here at the farm this summer.
Local Artists
Clayworks pottery is a lovely studio located nearby operated by potter, Jodie Hames. Her birdfeeders, small bowls, and other beautiful work will also be here at the farm this summer.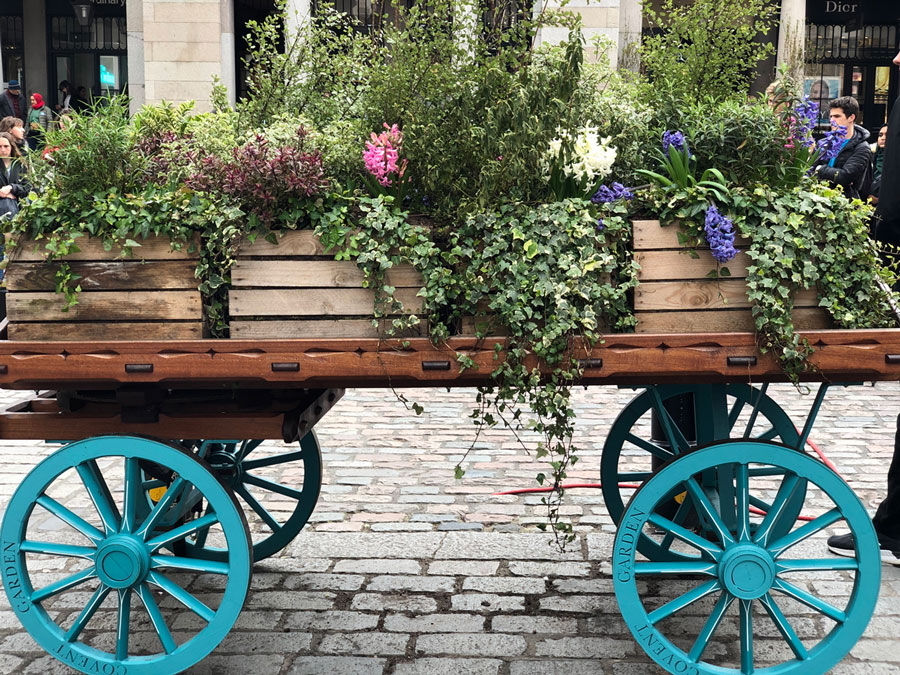 I was so inspired by a recent trip to London garden shops, so we too will have flowering plants, urns, and containers from our own gardens put together for sale. It's a natural progression with gardening and floral workshops on offer this summer as well as Carlyle's garden illustrations on cards and our outdoor signs for a self-guided garden tour at the farm.
All of this means of course, that we are going to have to move the office around once again. I'll do it when no one is home and maybe they won't notice a thing….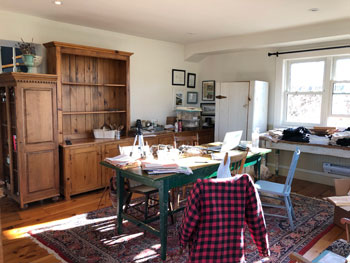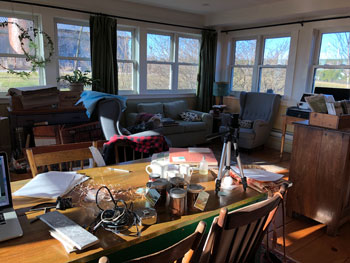 [/vc_column_text][/vc_column][/vc_row]