When I first moved here I had no idea that there was an amazing connection of trails in behind the house.
Then I met Ralph and Jean (McKim and Garsonin) who live on the 200 acres to the south/west. When I first started my business, Ralph's 80th birthday was the inaugural event held in the barn. They are wonderful people and I am lucky to have them as neighbours for many reasons, but one is that Ralph has, over many years, created trails in the forest and maintained them. Ralph, together with another neighbour, Denis Parent, are Master Groomers of the Ballyduff Trails. These trails are now a part of the Kawartha Land Trust, who we are partnering with for our upcoming Snow Day on February 8th. For more information on the event, click here.
---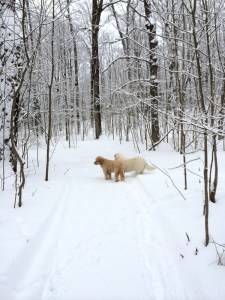 In my first years here, Ralph and I skied together nearly every day. Then work piled on for both of us and we never seemed to get out – not to mention that the snow disappeared. Last year for Snow Day we stressed and groaned about cancelling because there was not a flake of snow to be seen. Thankfully, a large snow pile arrived just in time for the special day. This year, I've finally gotten back out on the trails. This past Sunday, it was magical. The three dogs, Lilly, Molly and Nym, and I lashed on our boots and skis and off we went. (Millie, when she was a free range goat used to join us…I think Ralph nearly lost his mind trying to keep the trails impeccable while I destroyed them in just minutes with 12 paws and 4 hoofs!) Lilly leads and criss-crosses the trail nose to the ground looking for food (she's a lab), Nym – the Maremma – ears perked on the look out for danger, and faithful Molly the golden doodle holding up the rear behind me (literally) patiently stepping aside from the back of my skis when I go too slow.
It is magical.