This is my new "go to" salad this season. It is very easy, requires few ingredients and could be an entire meal not just a salad side. It is an elegant dish both in flavour and in texture with the curly napa leaves light green contrasting against the deep colour of the asparagus. As the spring turns into summer, I've made it again with broccoli, with green onions and with fresh peas. I'm sure with the late summer and fall vegetables this recipe will be a solid salad staple.
I have a salad pretty well every night for dinner. Sometimes it is the main attraction and sometimes it's just a few greens dressed simply. I also love adding roasted fresh vegetables to the mix.
I think the catch with this recipe is heating the soil slightly with the shallots. And of course – salt! I was thinking about making a warm salad with the first bunch of fresh asparagus I had just picked up from the market but one thing led to another and it morphed into something else.  
I always seem to have a head  head of napa cabbage in the fridge which I find is amazing to add to other salads. I make up my own "green mix" with sturdy sometimes bitter salad greens. Napa cabbage is always part of the mix. I keep them ready to use for lunch or dinner tossing some nuts, maybe sliced apples or fruit in season, goat cheese and it's a meal.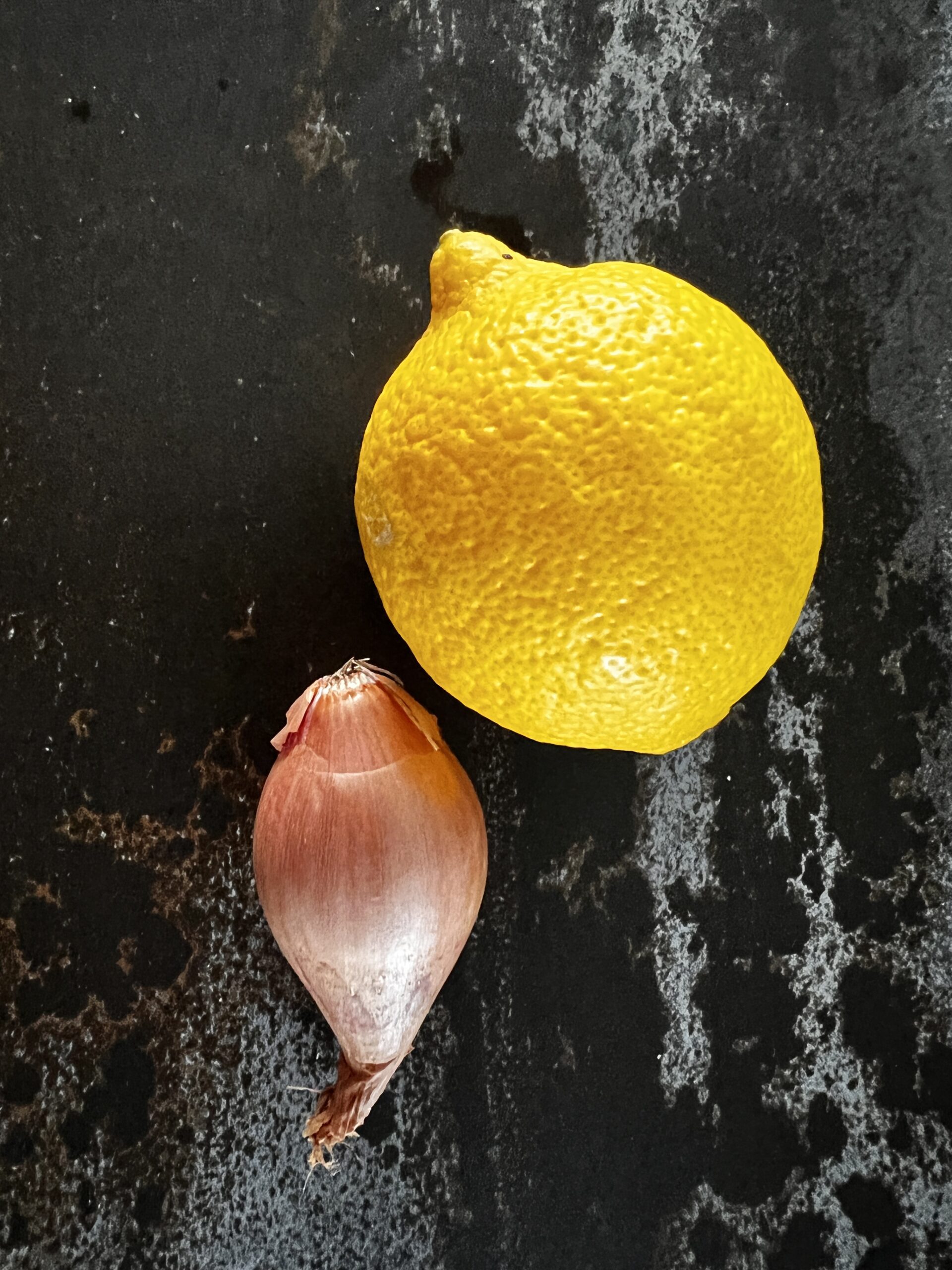 Use about 3-4 leaves of the napa cabbage or however many you want.  Taking one leaf at a time roll it up, with a sharp knife, slicing it into thin ribbons.
Heat a small saucepan with about 1/4 c of olive oil and toss in 1 shallot that you have finely sliced. Swish it around in the oil. Do this carefully so as not to brown the shallot – keep the flame on low. After 3 minutes or so, turn off the heat and leave the shallot in the oil.
Meanwhile, blanch the asparagus -which is not necessary but I do – for about 2 minutes be careful to not overcook. 
Remove the asparagus from the water, drain and rinse under cold water or plunge into an ice bath. Drain. Cut the asparagus into 2″ lengths and toss with the cabbage leaves. 
Zest some of the lemon directly onto the cabbage leaves. Squeeze the juice of 1 lemon and toss over the greens. Warm the oil slightly and toss over the salad. Add coarse salt to taste. 
Toppings that I like to add:
shelled pistachios or sliced almonds.
1/4 cup of goat cheese
1/4 cup of panko breadcrumbs
sliced grapes (red or green)
Pumpkin seeds
Variation:
Don't cool the asparagus and toss with the heated oil into the room temperature napa cabbage so that the salad is slightly warm and wilting. Add the toppings as usual. Perfect with grilled seafood, shrimp, sliced steak, chicken.