A bit of drama for the holidays
I always make this appetizer over the holidays. Now that the girls have left home, they make it for their friends and without fail, call me to get the recipe. I'll be serving it when they come home this holiday season. What I love about this recipe is that yes, it is decadent. But it is so lovely to look at and it is sooooo good and allows for experimentation with toppings and what you serve with it.
The best part about this appetizer is that you can use your favorite toppings. These listed here are mine but I always fluctuate. For example, raising or dates instead of cranberries, pecans or almonds instead of pine nuts. I like to serve it in the container I bake it in which for me is always a cast iron pan. If you are worried about hands burning on the pan, do transfer the brie to a platter. It's easy to transfer and surround with crackers or bread. My favourite is warmed sliced baguette.
Phyllo or puff pastry?
I use phyllo dough but I have seen recipes for puff pastry. If you use puff pastry, just follow the instructions and make sure that the sheet is big enough to accommodate your brie. That means you have enough pastry to go over the top of the cheese to cover it and the toppings inside. Phyllo is fussy – no question about that. Once you get into a groove working with it, it's easy. I also had to get over brushing each sheet with butter thinking one year, I could just skip that part as it seemed like too many calories. No you can not skip that part. It's what makes the pastry flaky. No skimping on the amount of butter you will need. 🙂
Some thoughts:
You can use a larger or smaller brie, this recipe included a 550 g wheel and was plenty for 8-10 people. If you scale up or down, simply adjust the amount of toppings and possibly baking time. The cheese should be a golden brown.
The recipe
Preheat the oven to 350 degrees.
Prepare an oven proof baking dish with parchment paper.
1 stick unsalted butter
6 sheets phyllo pastry
1 whole brie cheese – 550 g wheel
1/4 c brown sugar
1/2 c dried cranberries
1/4 c pine nuts (or sliced almonds)
Prepare a clean working space to remove the phyllo from the package. I keep a damp cloth on hand to put over the phyllo sheets I am not working with to prevent drying the sheets out.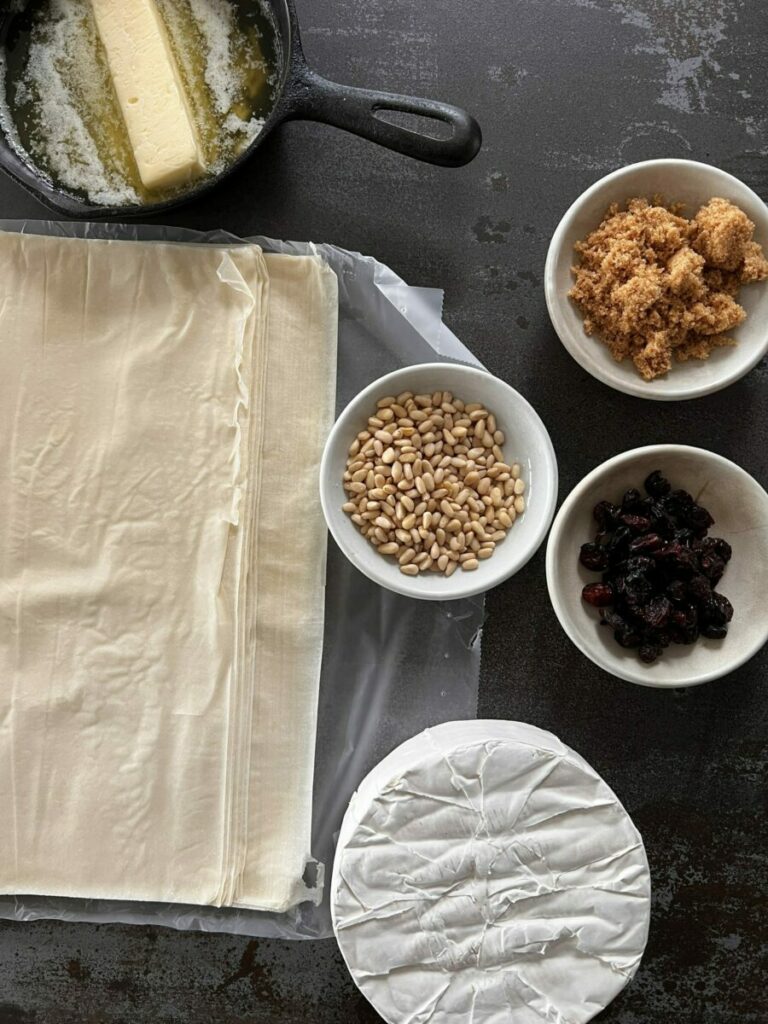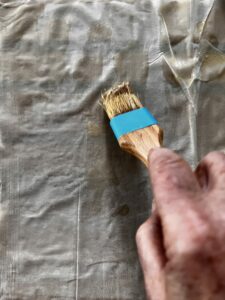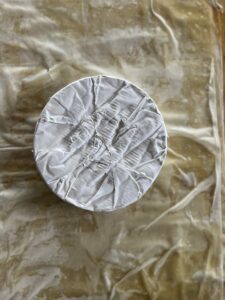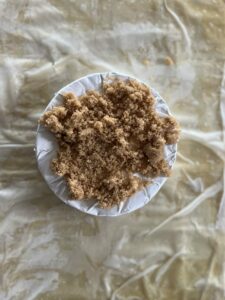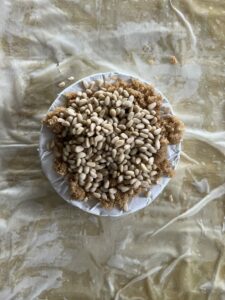 Melt the stick of butter on low heat. Have a pastry brush on hand.
Starting with one sheet of phyllo at a time, carefully take the one sheet and brush with butter. Remove a second sheet and lay over the first, brushing each with butter. Continue for 5 sheets.
Lay the brie cheese over the phyllo and put the toppings over the brie. I start with the sugar, the cranberries, the nuts.
.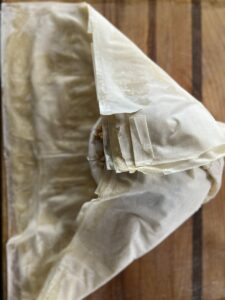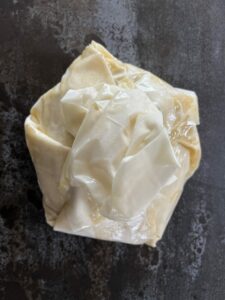 Fold the pastry over the brie and brush the entire top with butter. I use the sixth piece of phyllo to scrunch (literally) over the top of the brie and brush with butter. It's a great way to use any pieces that have broken but it gives it a bit of a flower effect when finished baking.
You may refrigerate the brie on a piece of parchment for a day.
1 hour before you are ready to serve, place the cheese on a oven proof pie pan or cast iron pan or baking sheet and in the preheated 350 degree oven and bake approximately 45 – 50 minutes or until it is a deep golden brown. I do not use parchment paper when using a cast iron pan but it will make clean up easier if you use parchment underneath the cheese for baking.
Allow the cheese to set about 10 minutes before serving. I like to serve red pepper jelly or cranberry relish along side with the bread or crackers.
Cheers and Happy Eating!