Festive dishes
I'm having something delicious for US Thanksgiving.
salmon with cranberries and honey. Two festive ingredients and the finished product looks lovely on a platter too.
You can have any number of side dishes, brussel sprouts, a bed of spinach, wild or black rice even mashed potatoes would work. Your choice!
This recipe is also very easy to make. I think you could easily substitute trout filets and they would be equally delicious. I simply roast the fish in the oven for 15-20 minutes depending on how thick it is. The glaze can go on an hour before you bake for added depth of flavour.
The recipe
1 filet of salmon (4 portions)
1/4 cup honey
2 T red currant jam
2 cloves garlic
1/2 tsp chili flakes
1 tsp grated ginger
1/2 cup dried cranberries
1 T olive oil
thinly sliced orange (optional)
salt to taste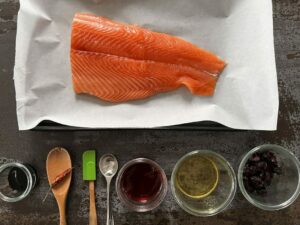 Preheat the oven to 400 degrees
Prepare a baking sheet with parchment paper
Dry salmon with paper towels. Brush with olive oil.
In a medium bowl, add all the ingredients and ladle half over the fish.
If desired, leave the glaze on the fish for 1 hour. Bake for 15-20 minutes depending on how thick the fish is. Meanwhile, heat the remaining sauce in a saucepan until just simmering. Stir for 2 minutes. Add the orange slices into the glaze.
When the fish is out of the oven and on the serving platter, ladle the remaining glaze and arrange the orange slices. Serve.