Spaetzle Noodles (or dumplings?)
Is it an egg noodle or a dumpling? Hard to know. It may depend on how thin they are dropped into boiling water. I started making these very easy spaetzle noodles by hand when I was living in Germany. Hannelore,  a friend of mine and of my mom's, pointed out that it was a fun and healthy meal for my daughter, then one year old. It was high in protein and delicious to eat and she could pick up the noodles with her fingers. She showed me how to make them. She was right, so easy to make and not only Carlyle loved them. Everyone did.
I actually had a spaetzle maker then – sort of like a giant garlic press – but she showed me how to smear the dough on a board and slice them into the boiling water. So easy. So fun. Less messy than using the spaetzle maker. What's great about making these is you can leave them plain or add your own toppings such as grated parmesan, ricotta cheese, sauteed vegetables, or traditional stews. You can make them in advance, and later, fry them in butter just before serving. They are delicate and fluffy. 
Now that my Aunt is living in Bavaria, these noodles are on every local menu. They originated from Southern Germany however, they are common in Italy and if you think about it, every culture has its version of Spaetzle. Basically flour, eggs, salt made thick or thin cooked in water or oil – think fritters in the Southern US. 
I made them recently after returning from a visit to Bavaria visiting my Aunt. I thought Shawn would be happy to have them with one of his favourites – Hungarian Goulash – or really any version of beef stew. I hadn't made them in a while and forgot how little time they took. I'll make them again when the girls are home. I have memories of having spaetzle as a child with lemon zest and ricotta cheese (maybe a sprinkle of sugar too). 
3 eggs
2 cups all purpose flour
1 ½ tsp kosher salt
1 cup milk ( use 2%)
Butter or oil if frying afte
Use a shallow large bowl (Hannelore told me this was important as when you are beating the mixture, you want to add as much air to the dough as possible. This is easier to do with a shallow bowl). 
Add:
Flour and salt and stir to combine.
Lightly beat the eggs and add them to the mixture. Add in the flour.
Blend everything together and then beat the dough until it is slightly elastic – about 3-5 minutes. Don't worry about lumps. It will be like a pancake batter, 
Meanwhile, bring a large pot of salted water to a boil.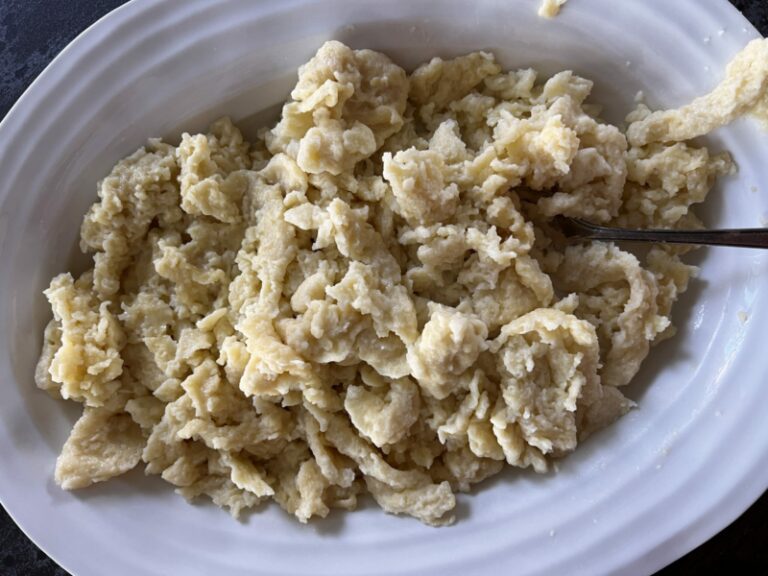 On a manageable cutting board, scoop about ½ to 1 cup of the dough onto the board and working quickly, slice off pieces of dough into the boiling water. You will want to do this in batches so as not to crowd the cooking noodles. Or, simple drop teaspoons full of batter into the water like little dumplings. The noodles will rise to the surface when cooked – about 2 minutes. I use a hand strainer to scoop the noodles out into a sieve and let them sit. Then do the next batch until the dough is finished. It took me about 2 batches of boiling to finish this recipe.. 
Spread a bit of olive oil or butter on the finished noodles and either serve right away or if frying later, allow to cool. When you are ready to serve them, heat a large skillet, add 1 tablespoon of butter or olive oil on medium heat and gently fry the noodles, turning them every so often to gently brown. Serve with chopped parsley alongside a stew or deliciously on their own.