I am very excited about the Butcher Share we have on offer right now. It is part of a philosophy of eating entire animals versus just the well-known parts that are most commonly available at the supermarket. Our modern way of eating in some ways has become increasingly narrower from when most of our lives were based in rural economies and agriculture, I do not believe we wasted as much of not only the animals we raised but of food in general. We did not have the luxury to waste that we do today. I am going to use my blog to post recipes that might benefit  others to cook with some of the lesser known cuts which are often the most flavourful.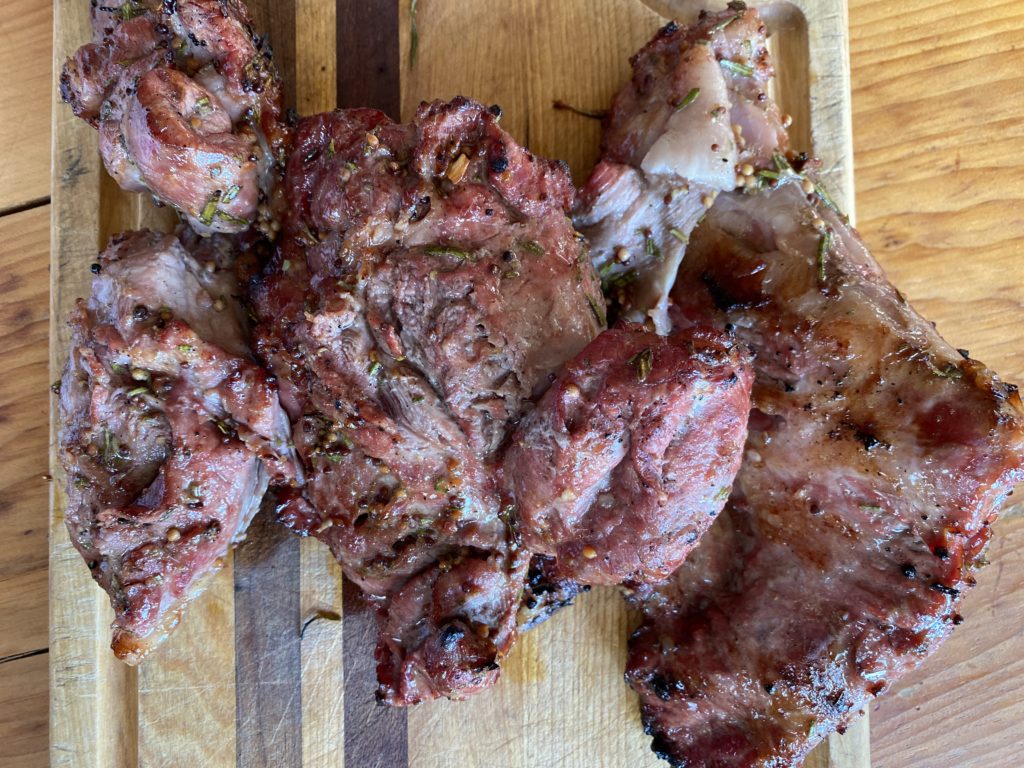 Despite the heat of the last few weeks, I grilled a lamb shoulder on the BBQ. It was the best lamb I have ever tasted. It could have been the fire, the marinade but the quality of the meat certainly had most to do with it. This recipe is good all year round and if not grilled on the BBQ, roasted in the oven is just fine.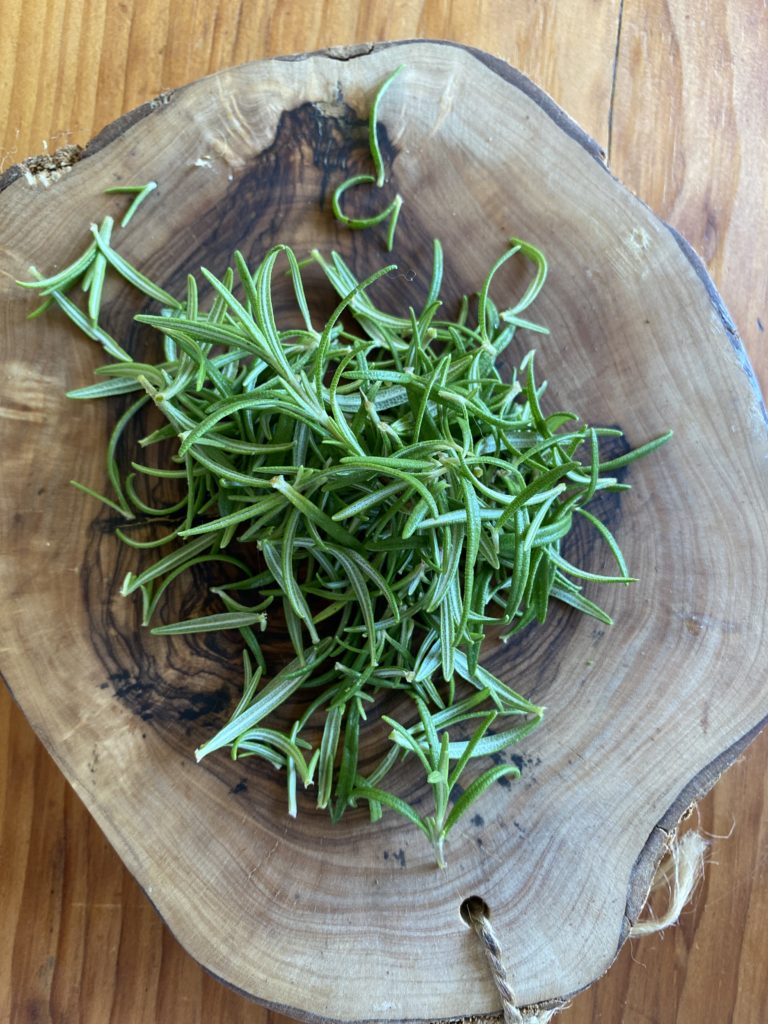 I started with a 2 lb lamb shoulder and a decent amount of fat still intact. I massaged the marinade into the meat and let it sit for at least 6 hours, however overnight is good and maybe even better. I grilled it over hot, indirect coals for about 40 minutes until the internal temperature was 140-145 degrees for medium doneness. Let it sit before carving into thin slices. I served it alongside potato salad but roasted potatoes or a grain like millet would be delicious too. It makes for a nice sandwich the next day.
Marinade
½ cup rosemary
¼ cup brown sugar
¼ cup tamari or soy sauce
1/3 cup whole grain mustard (like our sugar shack maple mustard)
6 cloves garlic
Salt and pepper
Finely chop the garlic and rosemary and mix all the ingredients together. It should be thick, pasty marinade. If the lamb is tied into a roast – take the string off and fold open the meat. Spread the marinade over both sides of the lamb and massage into the meat. I put the roast into a glass pan. Cover with a wrap and refrigerate for 6 hours or overnight.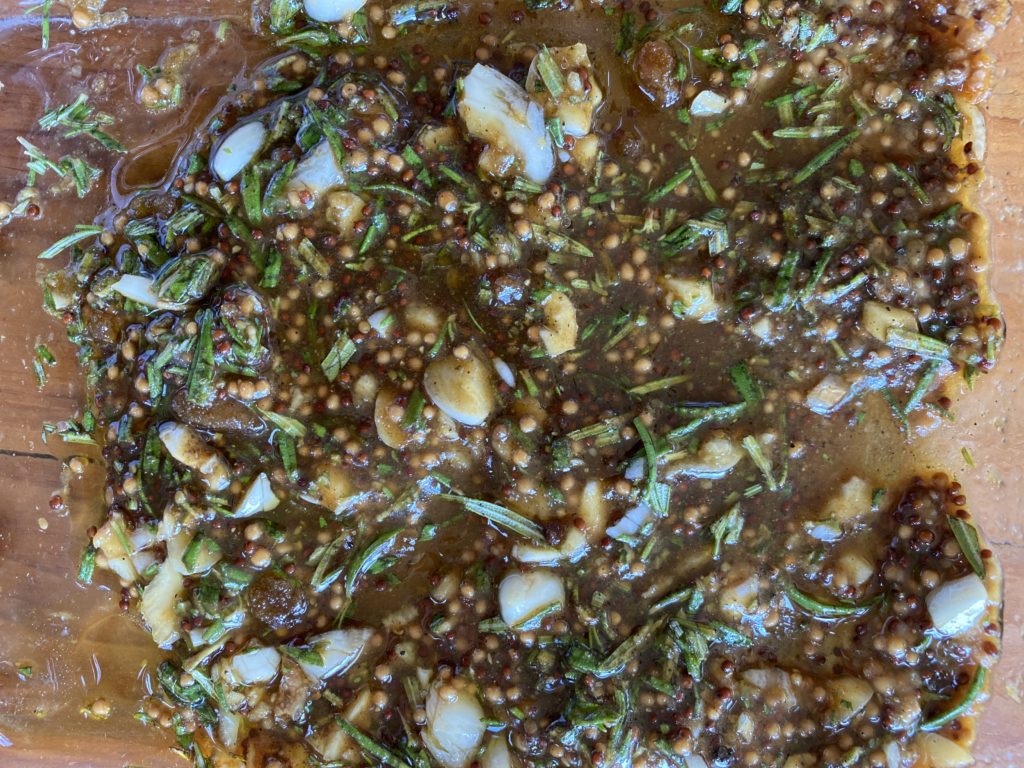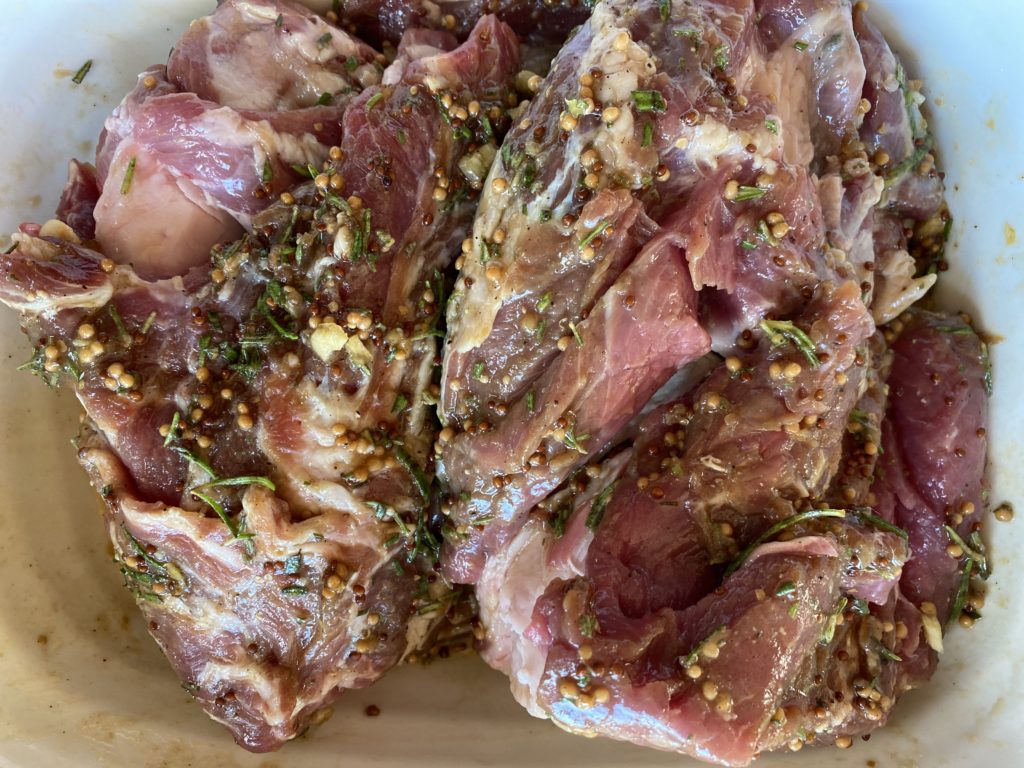 Preheat a grill or oven to 400 degrees. Let the meat come to room temperature. Place the meat in a roasting pan in a single layer or on the grill and cook for approximately 40 minutes or until the internal temperature is 145 degrees for medium/well. My BBQ was very hot and the meat cooked quickly. It may take a bit longer in an oven depending on the various thickness of the cut. The shoulder has both thick and thin pieces – you may wish to cook accordingly keeping some of the meat for medium rare.
Let the roast sit for at least 5 minutes and slice thinly. Serve with grilled vegetables and roasted potatoes.