I love when the weather suddenly improves and I can sit outside all day even for dinner. But the bbq isn't really ready. I'm not completely ready to embrace cleaning the grills, dusting the cover off, getting the charcoal or wood chips organized. So the oven will be just good enough. This dish feels like a summer evening anyway. 
This meal comes together within 30 minutes.  It is completely fresh, made from scratch, no premade anything. I love that is not only quick and super easy to prepare it is also great for company. It is a perfect fix when you want to eat healthy and lighter – my thoughts nearly every day – but you might have limited ingredients on hand. Full disclosure I stopped and bought a bit of salmon but you can use chicken from your freezer collection. A little fresh fish is nice for sure. 
What you need:
2 portions of salmon
1 head of broccoli
Soba noodles (or regular pasta)
soy sauce
honey
fresh garlic
fresh ginger
salt and pepper
sesame seeds
olive oil
In a small oven proof dish, rub a bit of olive oil all around and place the salmon in. I also turn the salmon over once in the oil to make sure it is covered in oil. I added grated ginger, 1 tablespoon honey, 1 fresh garlic clove chopped, 1 tablespoons of soy sauce. Spoon the sauce over the fish and let it sit at room temperature about 1 hour periodically spooning more sauce over the fish. 
If you want to do this in the morning and leave in the refrigerator for the day that works as well. Let the fish come to room temperature before baking. 
Preheat the oven to 400 degrees. Cook the fish for about 15 minutes or until it is still pink inside. (If you are using chicken thighs or breasts – I prefer with the skin on so as to keep the meat moist. Cooking time will vary as chicken undoubtedly needs at least 30-40 minutes to cook or until the internal temperature is 165 degrees. 
I served the salmon along side soba noodles tossed in rice vinegar and broccoli finished with salt and sesame seeds. A slice of grapefruit on the side – simply because I had it and it looked so fresh and nice on the plate!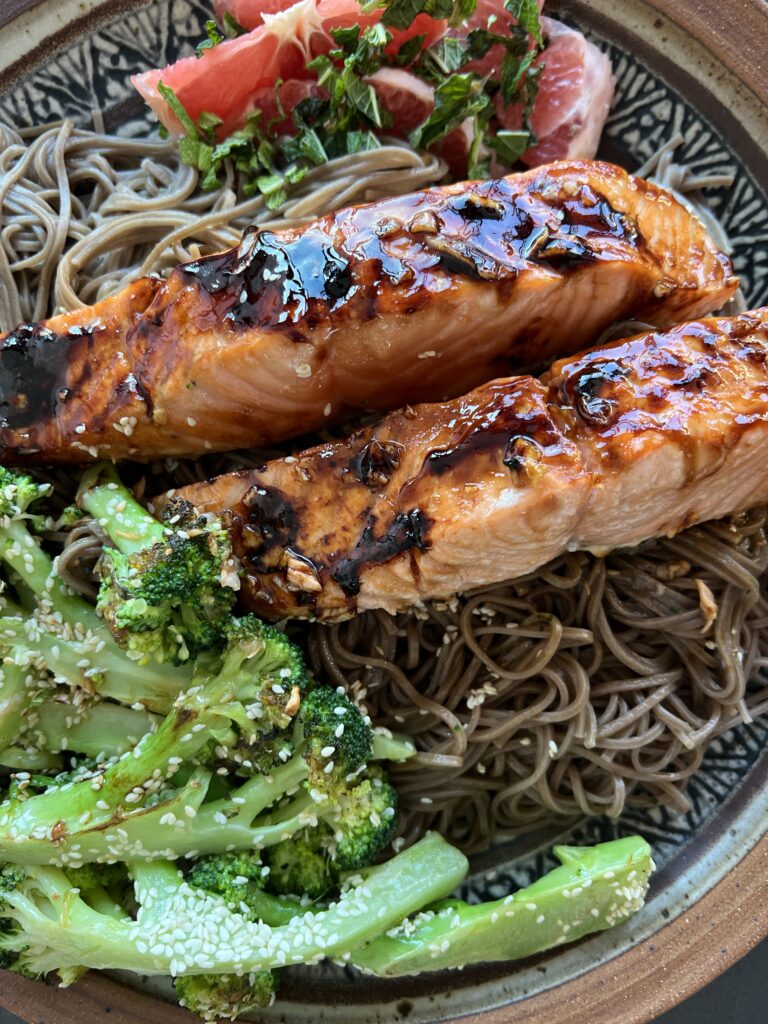 Soba noodles are my new discovery as a side dish. I've made them lots in soups or for an asian inspired bowl but I didn't appreciate how nice they are in place of regular pasta. The noodles are made of buckwheat a healthy grain, a complex carbohydrate, is higher in protein than regular noodles or rice and is high in fiber. Buckwheat is also gluten free.
Cook Soba noodles just like regular pasta. Bring a pot of water to a boil, add a bit of salt and then the dry noodles.  I cheated and first dipped the broccoli in the water and cooked it for about 2 minutes, fished the brocoli out and added the soba noodles to cook. They need only 4 or five minutes, strain and toss with a few drops of rice vinegar and or sesame oil to keep from sticking together. 
I also quickly tossed the cooked broccoli in butter or oil, sesame seeds and flaked salt. You can reheat in a frying pan or serve it cold like a salad.  Enjoy!