There are a few things that say summer to me. One is a Mint Julep even though hard liquor and I do not get along all that well. It's still fun to make these up especially when friends drop by. The secret to this drink as with all food is freshness. I like to make this drink our own at South Pond and add fresh blackberries which are just coming into season.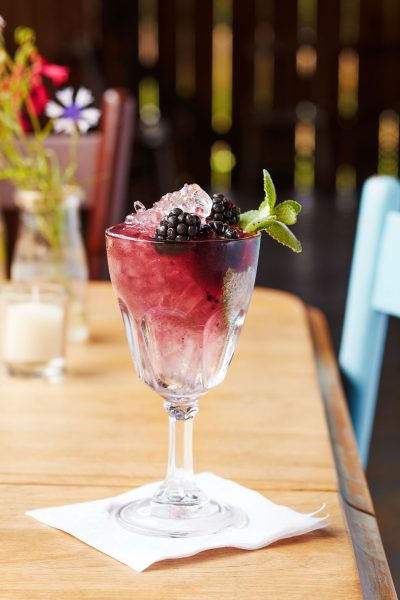 Blackberry Mint Julep
Makes  1 drink
¼ oz mint syrup (recipe follows)
6 fresh mint leaves
3 blackberries
2 oz good-quality bourbon or whiskey
Ice
Additional fresh mint leaves and blackberries, for garnish (optional)
❧
In a cocktail glass, combine mint syrup, mint leaves, and blackberries, and muddle together. Fill glass to the rim with ice.
Pour bourbon overtop. Garnish with a mint sprig, and perhaps some extra blackberries, and serve.
Mint Syrup
Makes enough for 8 drinks 1 ¼ cups water
1 ¼ cups granulated sugar
Large handful of fresh mint leaves (including stems)
 

In a medium saucepan, combine water and sugar. Bring to a boil. Stir in mint leaves and remove pan from heat. Let steep until cool.

 

Using a fine-mesh sieve, strain the mixture into a jar; discard solids. Stored in an airtight container in the refrigerator, it will keep for about 2 weeks.
❧