I love salad – especially summer salads when all things are fresh. I prepare one with almost every meal. In the summer, the greens are so fresh and delicate they may not need any accompaniments. Most of my salads are just greens and fresh herbs but making the extra effort to have vegetables on hand to throw in is great. I gadget- a mandolin to shave firmer vegetables like raw carrots, beets, turnips to use in the salad. Or if you don't have one, you can always use a peeler.
I most often fall into a routine with dressing too, making my favourite which is a simple vinaigrette of Dijon mustard, olive or vegetable oil, and white wine vinegar, a pinch of sugar or honey, salt and pepper. In the summer, when tarragon is fresh, I use it all the time either tossed directly on the salad or in the dressing. I might chop a clove of garlic but I put that over the leaves and not in the dressing so it's fresh. Another favourite dressing is with apple cider vinegar, honey, and sumac. This is a great dressing to use over beet salad in the summer or toss with raw cabbage in the fall.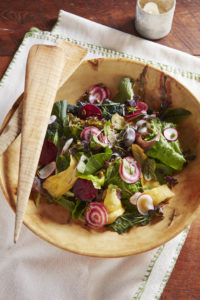 Serves 6 to 8
4 to 6 cups fresh salad greens (your favourites)
½ cup shaved carrots
¼ cup shaved beets
2 very thinly shaved slices of red onions
Handful each of fresh flat-leaf (Italian) parsley, tarragon and chives, loosely torn
¼ to 1/₃ cup Tarragon Vinaigrette, or to taste (recipe follows)
    Wash the lettuce greens and dry thoroughly (use a salad spinner if you have one). Place in a serving bowl.

    Using a mandolin or vegetable peeler, thinly shave slices of carrots, beets, onions — any sliceable item you wish to include in your salad.

    Drizzle with dressing and toss just before serving.
Tarragon Vinaigrette
Tarragon has a unique, mild anise flavour that's lovely in this dressing. It's one of my favourite herbs, but I notice most people don't use it very often maybe because it's harder to fine. Unfortunately, dried tarragon is not a great substitute dried tarragon in this dressing — it just won't yield the same results. If you don't have any fresh on hand, simply use fresh parsley, dill, or chives.
Makes enough for one large summer salad or about ½ cup
2 tbsp white wine vinegar
1 tbsp Dijon mustard
6 tbsp extra virgin olive oil or vegetable oil Salt and pepper, to taste
Pinch of granulated sugar
¼ cup chopped fresh tarragon leaves
    In a salad bowl or Mason jar, combine vinegar and mustard; whisk or shake until thoroughly combined. 

   Add olive oil and whisk or shake again until thick and emulsified. Season with salt, pepper, and sugar. Just before       serving, add tarragon. Drizzle on salad, to taste, and toss just before serving.