Kimchi is a staple in Korean cuisine – like ketchup, pickles or relish with a hamburger, kimchi is served at most Korean tables as a condiment. It's also a staple at the South Pond table because our chef, Neale makes his own and always has it on hand to top savory appetizer pancakes, in soups or with side dishes like potatoes or grilled vegetables. I confess that other than reading about it in books, I have not really used it much and haven't gone out of my way to buy it as I always thought of it as fishy tasting the few times I've tried it. I recognize that there is a benefit to eating kimchi because of the lactic acid bacteria like that in yogourt or sauerkraut that is good for our gut health. It hasn't changed my mind until I tried Neale's version of kimchi.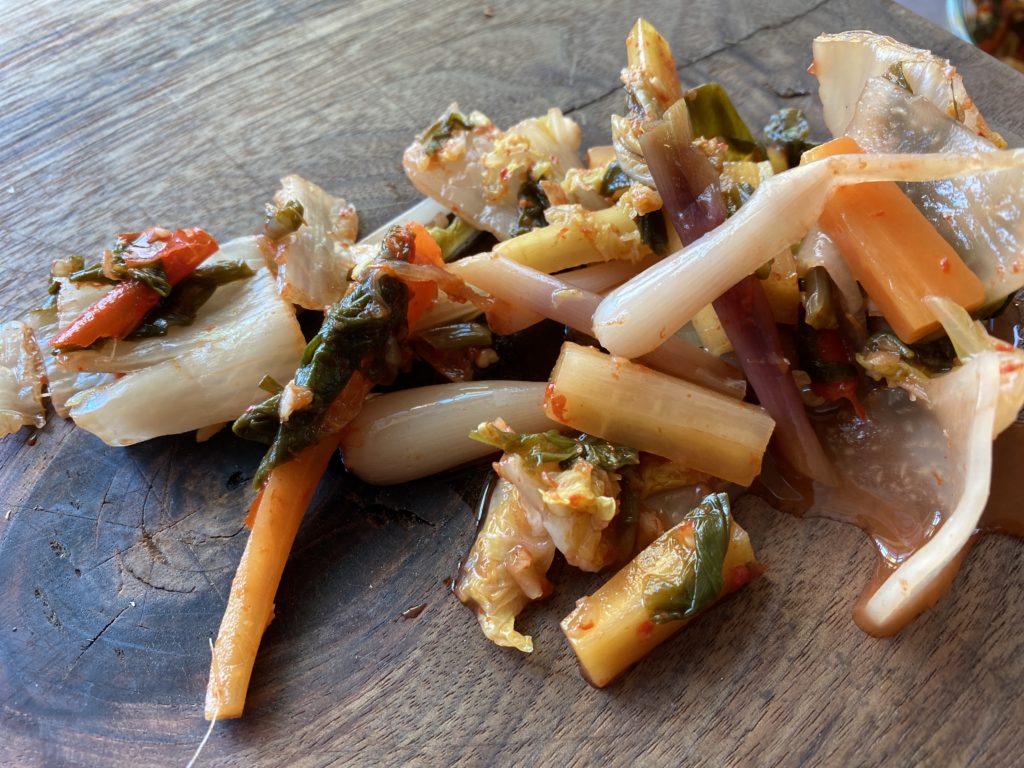 The concept of making it seems daunting. The vegetables are fermented for a few weeks  like in sauerkraut (which I love) or dill pickles (that I also love). They are soaked in a salty brine at first and then various spices are added. Neale's smoked and fermented peppers are truly what give this version a unique flavour. It's such a pleasure for me to have it on our menu this week and to have the opportunity to acquaint myself with it -sparingly given the small quantity on hand!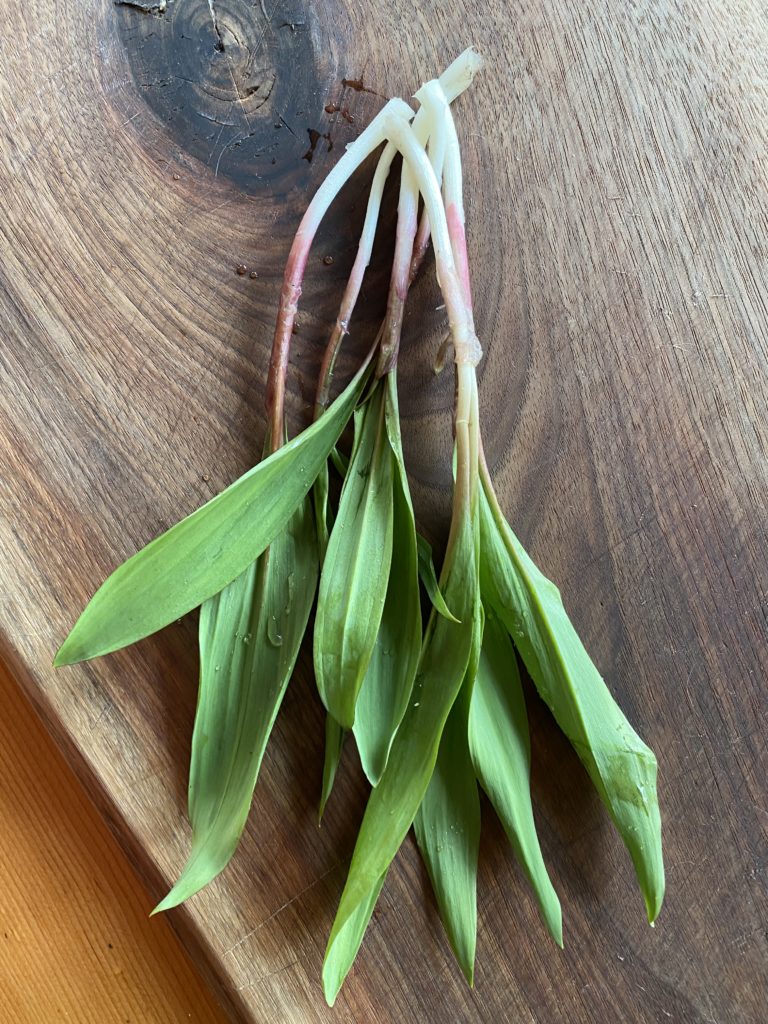 This kimchi that is on our website now is made with fresh garden ingredients like cabbage, carrots and purple daikon and charred chili paste that Neale makes himself with garlic and ginger. What makes this kimchi special is that it is also made with foraged wild leeks. This batch is made only once a year in the spring when wild leeks are available; it's our Ontario version of the classic Korean ferment. It is not too spicy, it is a little bit sour and deliciously smoky. It is made entirely with Ontario ingredients but the salt and ginger.
I love it on a board with whatever the garden yields – radishes, asparagus, spring onions and nuts, crackers, cheese and charcuterie. It pairs well with a cold IPA or a sauvignon blanc on a hot late afternoon under the shade of a tree. Neale uses it as a stir fry, directly mixed or pureed in soups to give them flavour and depth. I'm planning on serving it alongside grilled pork – smoked with hickory or maple chips and topped with a generous grind of salt and pepper.
We have made one batch only and when it's gone it is gone. More versions are on the horizon but none using the wild leeks that have been so plentiful this season. I urge you to try it for yourself. This kimchi uses no fish pastes and is safe for gluten free and vegan diets.