This category in my stories should have been something I started years ago. I speak to my mother many times during the week and we often talk about food, what we are cooking for dinner, something we made over the weekend. The usual banter. There are many times I think what a great idea or she says something to me that makes me realize how resourceful she is. I learned to cook from my mom and also adopted her lack of precision, recipe abandonment, freedom to experiment. She was also brought up during World War II and has learned not to waste especially food and appreciate all varieties of ingredients. During this COVID crisis, I see my daughters cooking a lot more than they might have before the pandemic. I also see a bit of free-styling coming to the surface…using a recipe for guidance but calling me for my take on it.
For the past several weeks, I've had soup kits on our website and most all of the kits included a leek with the usual instructions – use the white part only. I know that the green parts should be saved for making stock later on but most often – I compost this deep green part of the leek because I don't have the time to put together all the stock ingredients or worry my freezer is too full to accommodate the greens for storage. It is a shame for sure to not use this very flavourful vegetable for all its parts. My mom casually mentioned that she used the green parts to cook chick peas. She says that the chick peas have a much better flavour than if you just boiled them in water.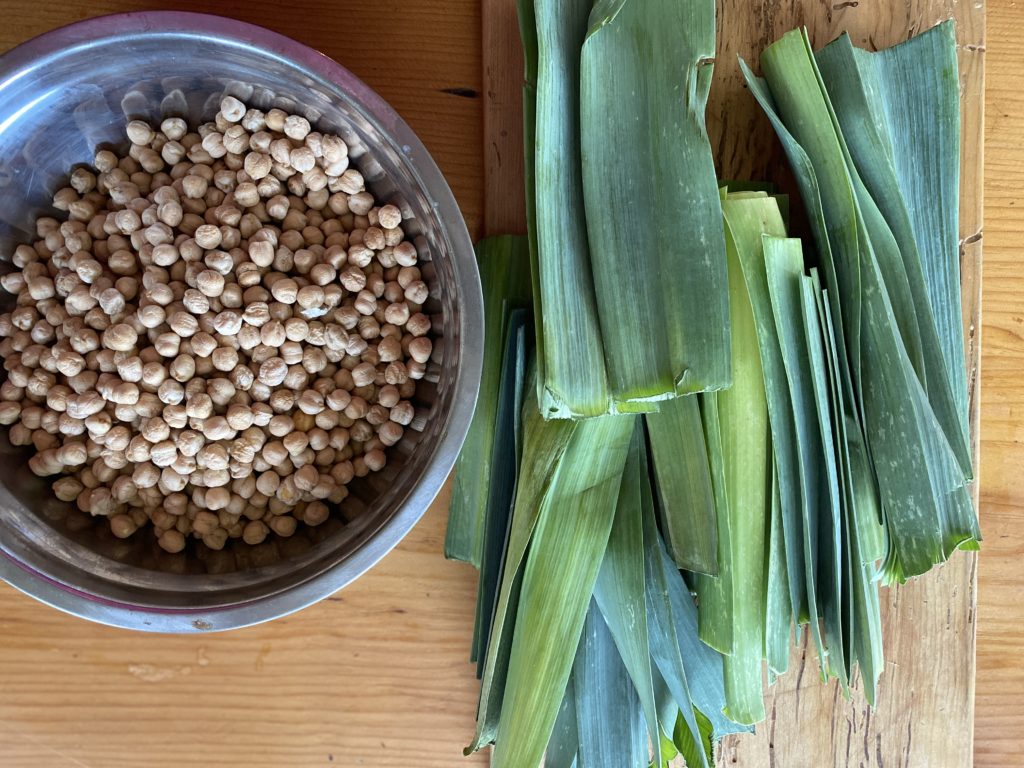 I gave it a try. She also converted me to an Instapot for cooking a variety of things and very handy to cook up chick peas and other legumes. Using the leek greens in the water is a great idea. The chick peas are very tasty and i's a good way to use up the greens of the leek.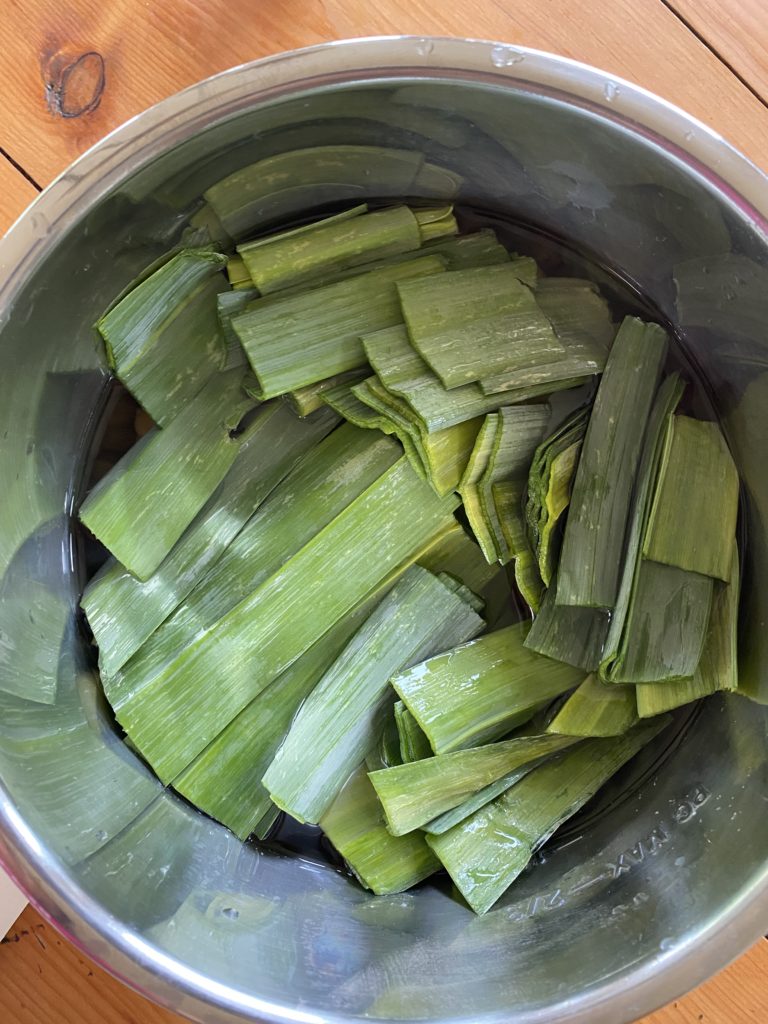 | Tip
Preparing the chick peas for cooking. 1 cup of chick peas soaked over night. OR 1 cup of chick peas, 3 cups water cooked on high in an Instapot for 3 minutes and quick release.
Rinse the peas and add back to the Instapot with the tops of one washed leek and 6 cups water. Cook on high for 12 minutes and 10 minute release. On the stove – add the chick peas, 6 cups water and the leeks and cook on medium heat or gentle boil until the chick peas are done – soft but not mushy, about 30-40 minutes. Drain most of the liquid and discard the leeks. Keep in the refrigerator in a glass container to use for whatever you wish or freeze. Peas have a slight oniony flavour and sprinkled with a bit of coarse salt, great topping to a salad or making hummus. Thanks, Mom for this great tip!