I had some interesting looking Jacobs Cattle white beans from Lunar Rhythm Gardens . This batch was a white bean which I normally use for making baked beans or a rosemary garlic dip. I thought they might be a good base for some chilli – white bean chilli. Chilli is such a great winter dish and an ode to Family Day and the cold days of winter when a hearty bowl of stew or chilli is a welcome end to the day. I decided to try something a little bit hybrid – something between a white bean rosemary -sort -of -cassoulet type stew and traditional chilli.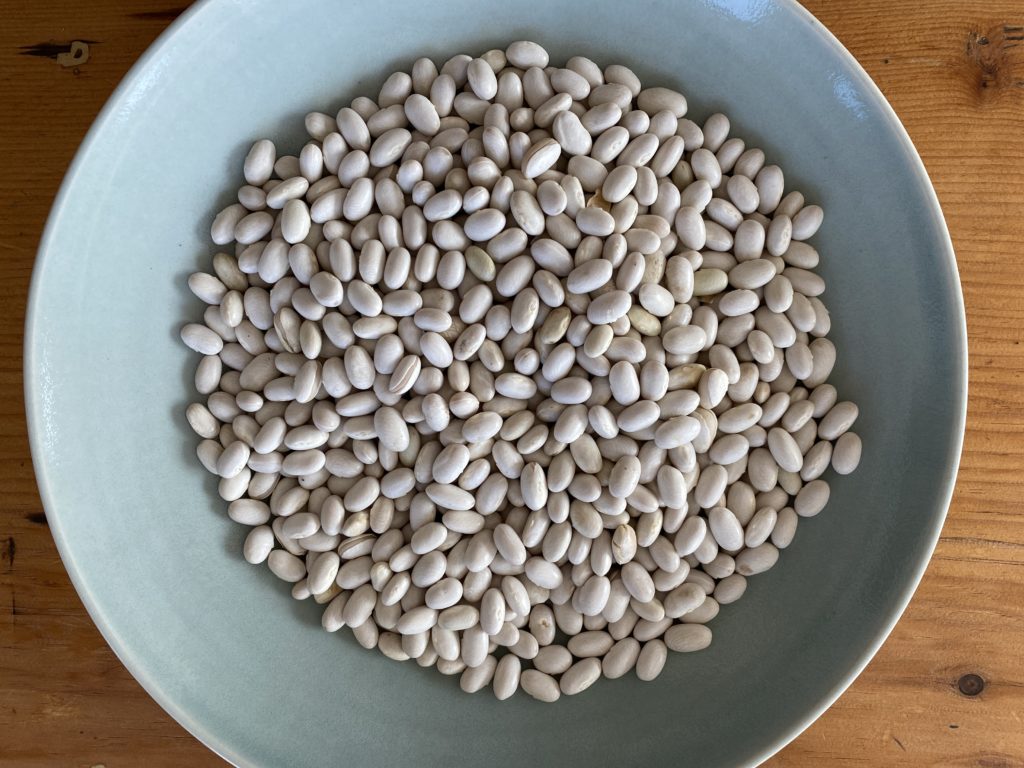 Serving your chilli
The result was a hearty stew  perfect with cornbread or a few slices of sourdough and maybe a salad. My mom serves her chilli with corn chips on top and I serve mine with yogourt. While I haven't tried making it without meat, I'm sure that it would be equally as good. We were feeling very satisfied after our bowl! (No corn chips, no yogourt, just a sprig of rosemary and cornbread.)
To begin
1 1/2 lbs of chuck or stewing beef.
2 tablespoons olive oil
1 large onion coarsely chopped
3-4 large cloves garlic finely chopped
2 stalks celery coarsely chopped
2 carrots coarsely chopped
1 heaping tablespoon chilli powder
1 tsp salt
1 tsp pepper
2 sprigs of fresh rosemary
1 tsp Manvers station rub (optional)
1 tsp paprika
1/2 to 1 tsp cayenne pepper (or more or less to your level of spiciness)
1 28-ounce can of stewed tomatoes
1 tablespoon tomato paste
1 cup white wine
2 cups chicken broth (or more as needed)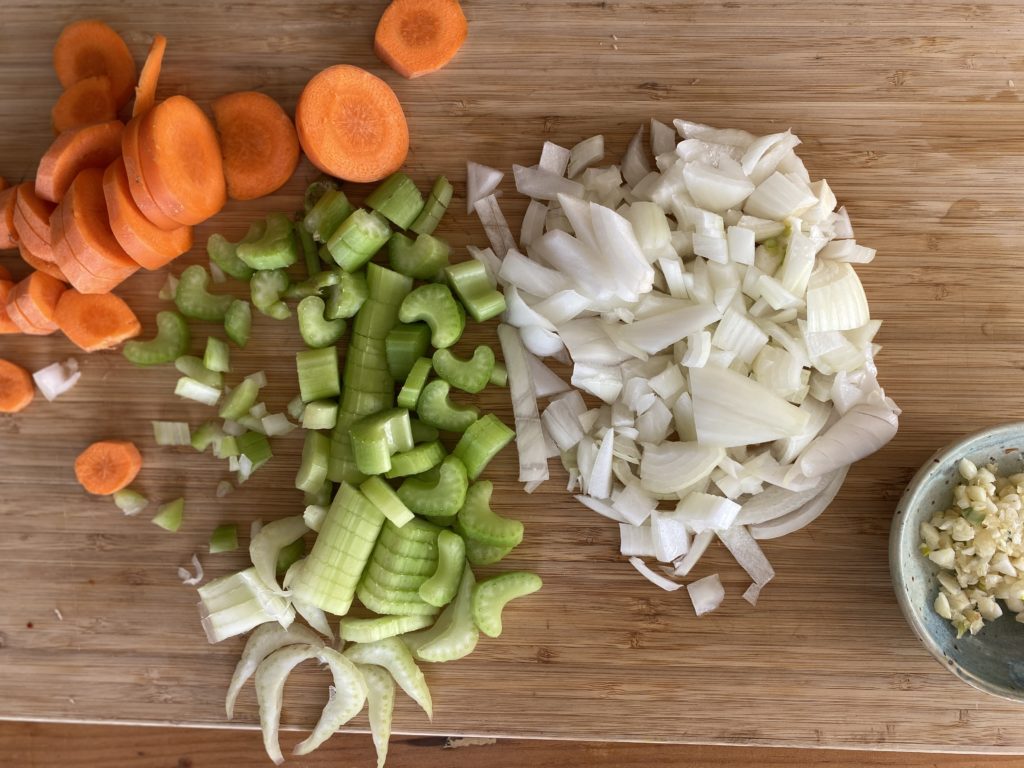 Cut the meat into large cubes. Heat a dutch oven on medium high heat, add the oil and brown the meat – taking care not to crowd the pan. Remove the pieces as they are brown about 3-5 minutes a side and set them aside until all of the meat is browned. This should take about 10-15 minutes.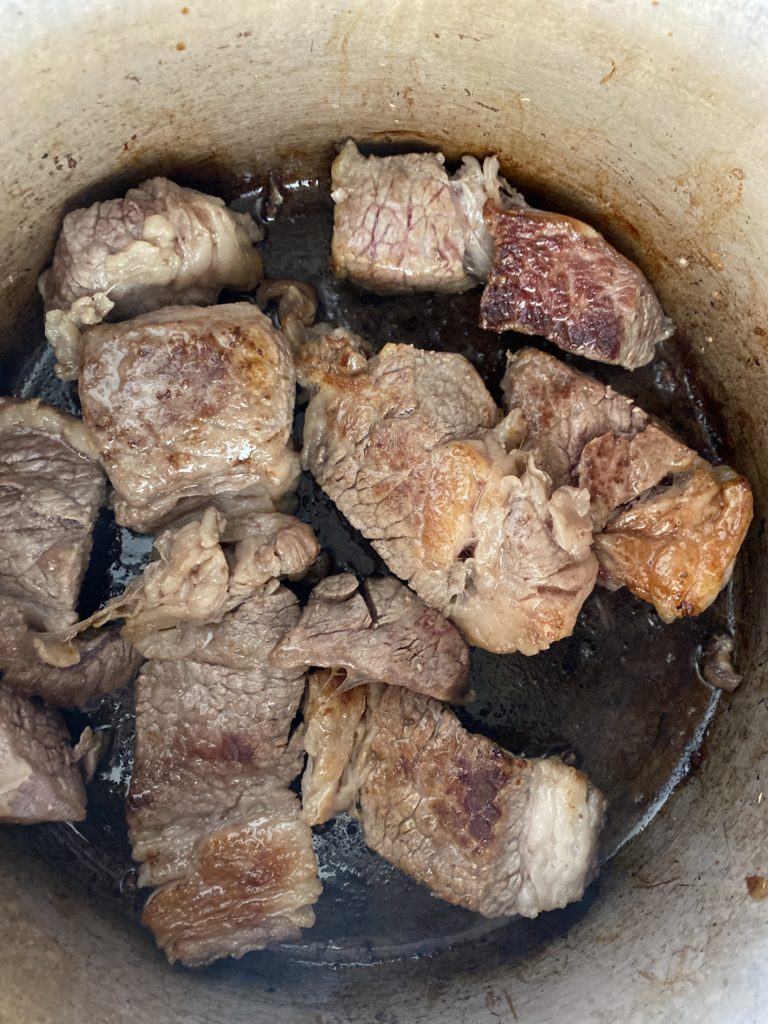 Add the onions and sauté for about 5 minutes. Add the spices, vegetables, herbs and garlic, tomato paste and stir in the fat for approximately 2-3 minutes. Add the white wine. Cook for 1 minute. Add the meat and beans, the tomatoes (and 1 tin of water to rinse the juices out) and rosemary and enough broth to cover the meat and beans by at least 1 inch. Cook in the oven at 325 for 2 hours or on a very low simmer on the top of the stove stirring occassionally. Check every once in a while to make sure there is ample liquid – enough to cover the mixture.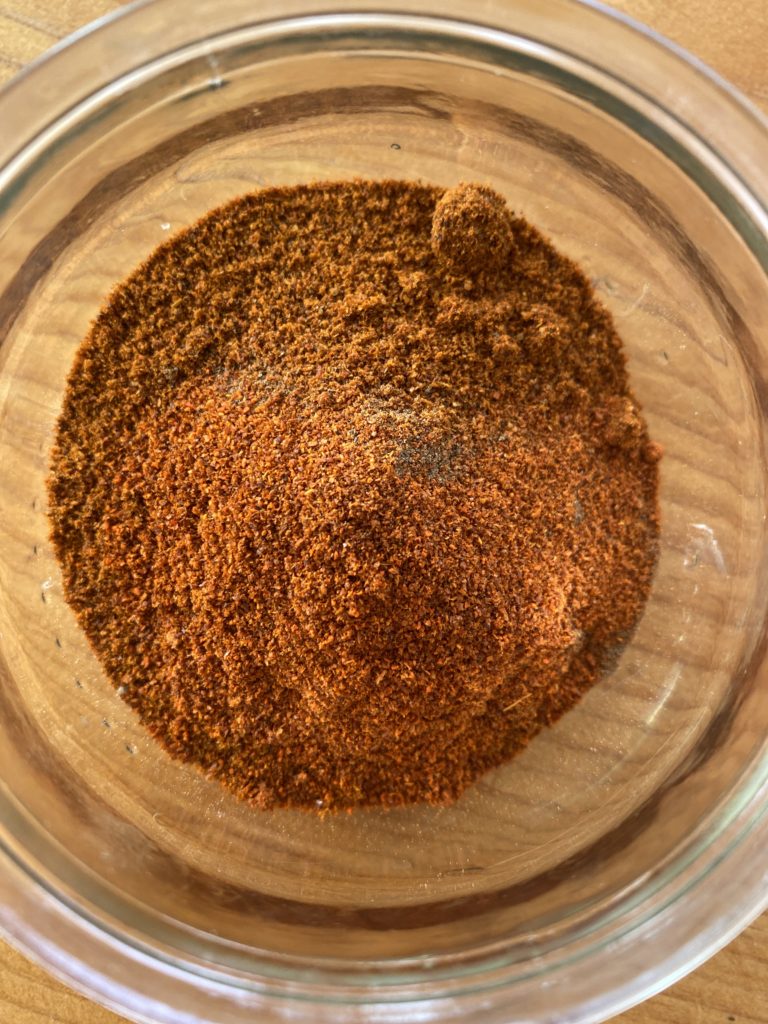 Finishing
Remove from the oven and adjust for salt. The chilli will be thick. You can make this ahead or freeze. I heated a little bit of olive oil with a clover of crushed garlic, dried chilli flakes and additional fresh rosemary  and pooled it on top of the chilli when I served it along side the cornbread. The large chunks of meat had almost melted into the beans. It was delicious.