I don't know about you, but I've been eating heavier food than I normally eat these days. I'm attributing this to winter or is it that we are in a lock down and I might have a bit more time on my hands?…. Aubrey Rose and I have been skiing the trails most every day so don't we deserve it? This winter savoury tart tart may have certain richer ingredients but used in moderation, they feel decadent and not so heavy. I have been craving greens but only getting to the store weekly means by week end there are only remnants left – enough to add a handful of spinach into this tart. 
This is a delicious, comforting tart so easy to make and assemble. What makes the winter savoury tart really good is the nuts in the pastry dough. I used walnuts but pecans are lovely as well.
The fillings lend well to your own creativity such as using a variety of onions or chopped kale instead of spinach. It's also a good time to use up leftover cheese from the holidays. I had a little Roquefort, cheddar and parmesan ends all -perfect in this tart.
Serve the tart in thin slices as an appetizer or as a main course with a green salad and light honey vinaigrette -and a dollop of onion marmalade. Another great salad that would go well is one of my favourite cabbage salads, with apples and walnuts.  It's a perfect winter dinner. 
3 tablespoons olive oil
3 leeks washed, trimmed and cut into thin slices
1 shallot or medium yellow onion sliced
2 cups spinach
1-1.25 cup grated cheese – I used ½ cup cheddar, ½ cup grated parmesan, ¼ cup blue cheese (or goat chèvre) crumbled on top
2 eggs lightly beaten
2 tablespoons heavy cream (substitute milk if desired)
1 portion nut crust dough (see below)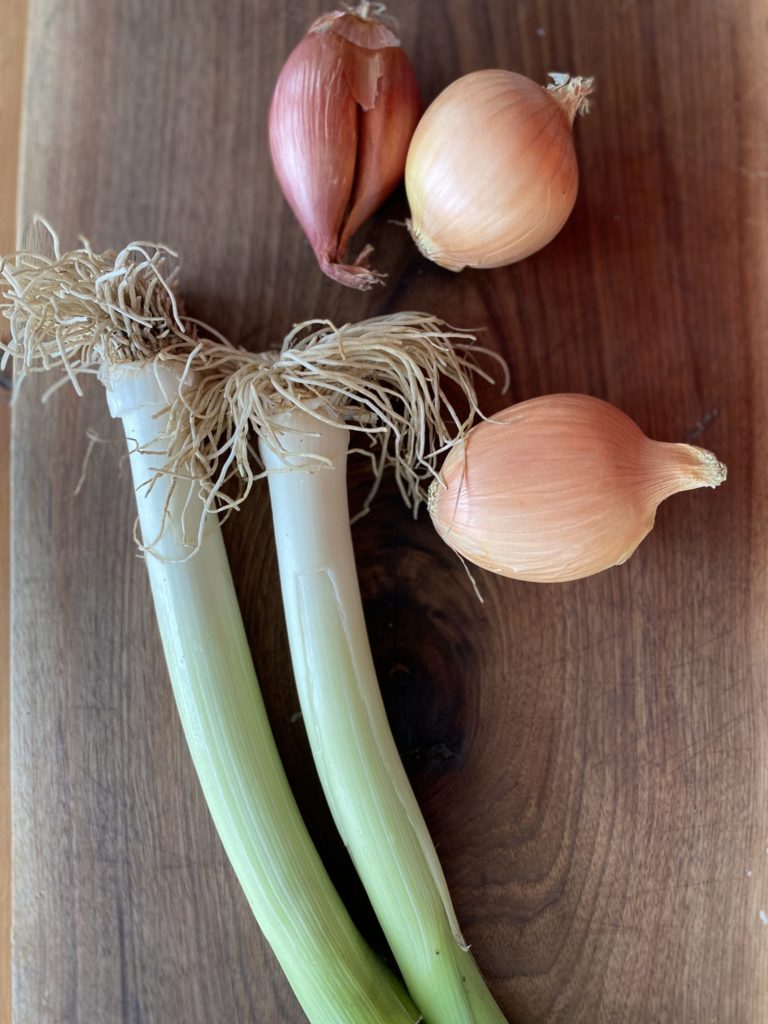 Preheat the oven to 350F.

In a large saucepan, heat the olive oil and butter over medium heat and add the onions and leeks. Sauté gently being careful not to burn the onions. Add salt and pepper to taste. They should be soft and melting about 15 minutes. Remove from heat and fold in spinach. Let cool.

Meanwhile, take the pastry out of the refrigerator and roll it out on a piece of parchment paper to about 12" in diameter. Place the dough and the parchment on a baking sheet.

Add the grated cheeses and the egg to the onion mixture -except for the soft cheese. Mix gently. Heap onto the centre of the dough. Gently spread the onion mixture out leaving about 1" of pastry border all around the edges. Fold the pastry over onto the filling. Crumble the soft cheese on top and the cream if using. 

Bake for approximately 20 minutes or until the pastry is golden brown. Let rest 5 minutes before serving. 
½ cup walnuts
1 ¾ cup all purpose flour
1 tsp salt
1 tablespoon sugar
1 stick unsalted butter cut into 6 small pieces
2-4 tablespoons ice water
In the bowl of a food processor, finely grind the nuts – being careful not to turn into a paste!
Add the flour, salt, sugar and pulse. Add the butter and mix gently until the dough is a crumb. Add 2 tablespoons water, pulse and pinch with your fingers to see if the dough comes together.
Turn the dough onto a board or bowl and add more water if needed by the teaspoon mixing gently with your hands. Bring the dough together into a ball and wrap with wax paper and let rest in the refrigerator for 30 minutes or up to 6 hours.