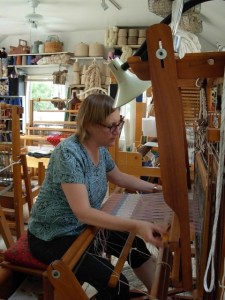 I must confess a real weakness for textiles of all sorts, to drape across furniture, to decorate a bed or to throw over my shoulders for both fashion and warmth. So the thought of having three outstanding weavers at our show just whets my appetite even more! My friend Dale, the co-organizer of Art in the Fields at South Pond Farms, tells me that two of three are not only master weavers, but also master spinners, and the third is well on her way. These designations are hard-earned: The artists had to go to school for several years in order to receive the distinctions. All three have been pivotal in developing the fibre arts community in Durham Region. While the three weavers share similar skills, each has chosen to explore her art in differently.
---
A neighbour infected Pat Neal with the weaving bug when she was very young. She started lessons and bought her first loom in her teens. She now owns eight looms, all of which reside on the second floor of her studio, where she teaches regularly.
She is fascinated by the equipment and the mechanical aspects of weaving. It is so simple and such an ancient art form, yet it produces amazing results. How does she decide what to weave? "I look at an amazing yarn and go 'Oh my gosh, this is beautiful, I could do… with this.' I fall in love with the fibre, then I store it like a fine wine until I am ready to consume it!"
She loves to weave large pieces and is known for her rugs, blankets and bedspreads using unique and wonderful colour combinations, and unexpected fibres. She is also an incredible seamstress, and has received a THEA award for her costume work for a production of Joan of Arc at the Whitby Court House Theatre. Pat also works at the Textile Museum of Canada in Toronto, linking her love of fibre with all that she does.
---
Dini Page has done handwork since the age of seven, in the Netherlands. When she moved to Canada she got her first table loom, then quickly graduated to a full floor loom. She has looms and yarn everywhere in her house. It is a delight to know someone so passionate about her art. Dini is first inspired by the colours all around her, which she translates into rich and unique items. She loves to dye her own fibres, and is known for her painted warps (that's the lengthwise part of the cloth). While she will work with any fibre, she prefers natural materials, especially silk. But she also creates pieces by starting with raw wool and spinning amazing yarn that she then weaves into unique shawls, scarves and throws. Keep an eye out for her Japanese-inspired temari balls—lovely hand-wound Christmas balls that shimmer with colour. I do hope she brings some of these to the show!
---
Mayah Sevink has been weaving for more 15 years. She describes herself as suffering from adult ADD, and finds the weaving focuses her, creating a rhythm that allows her to "pay attention" and create. She appreciates the discipline of weaving, as it requires her to work step by step. She also enjoys the unpredictability of the art—while she works with just two threads, the warp and weft, there is more variance than one would expect, and she loves the often-surprising results.
She also loves to work on custom orders. She starts by looking at the person, their taste, how they like to wear things, whether they are more formal or informal, refined, crisp, casual, colourful or simple, then takes time to work through the creation. She starts with the colours then moves to the structure, and the results are beautifully crafted shawls, scarves and throws.
Mayah also enjoys dying her own yarns, again because the unexpected always happens, inspiring a new creation. And like the other two weavers, she loves to spin her own yarns, but for different reasons. First, it allows her to go to what she describes as a Zen-like state of calmness, and second because it lets her create unique and colourful yarns for all her creations.
Art in the Fields runs from July 1 to July 7 at South Pond Farmsfrom 10:00 a.m. to 6:00 p.m., except for July 6 10:00 to 1:00. Join us for an opening reception on Sunday, June 30 from 1:00 to 5:00.[vc_row][vc_column][mk_fullwidth_slideshow padding="40″ bg_color="#595959″ bg_position="center center" images="11172,11173,11174,11175″][/vc_column][/vc_row]