Chervil is not an herb that gets much attention. It is difficult to find in stores and I don't often see recipes using it. Chervil is related to the parsley family and does look a bit like parsley but the leaves are smaller and more delicate. It also has a lovely white flower which I sometimes use in a bouquet. It has a faint liquorice taste especially when finely chopped. It's best used as a "last minute" herb its taste is fragile and best used just before serving.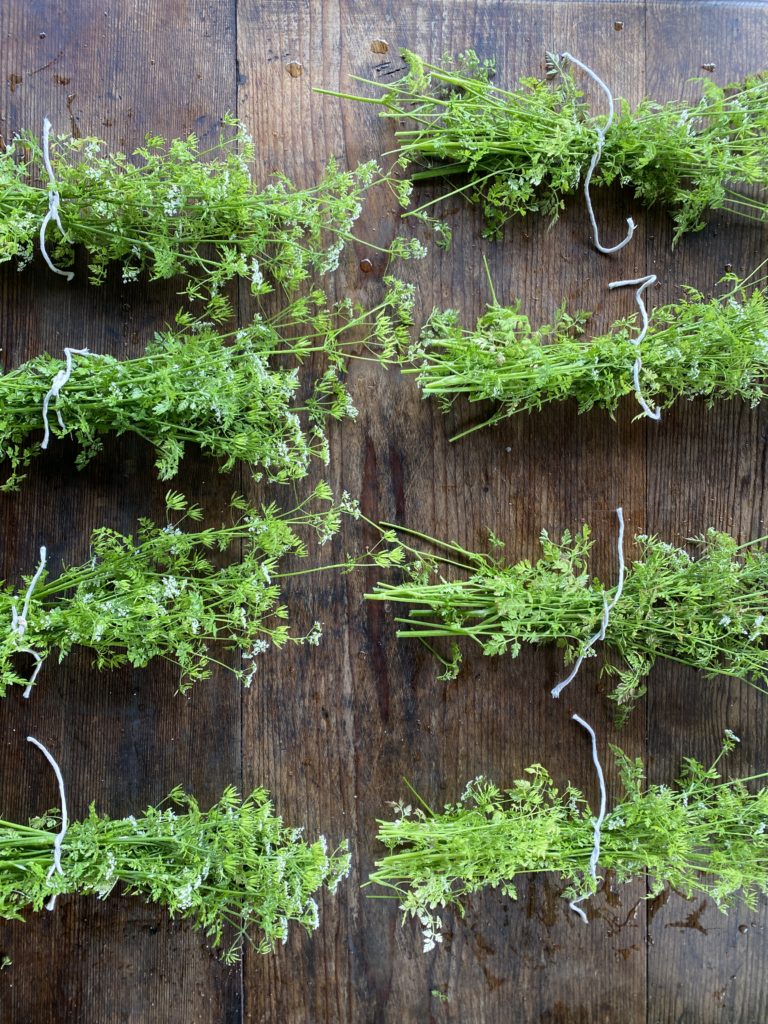 Fine Herbes Mixture
Truthfully, I have a love hate relationship with liquorice flavoured things for example I do not love anise seeds, but I love fennel, I love tarragon and chervil both with a slight liquorice taste. When I first started Farm Flavours and South Pond, I made up a fine herbes mixture comprised of the french herbs traditionally used in this mixture – parsley, chervil, chives, tarragon which I used to infuse salt and would serve in small bowls on the tables for guests to use if desired. I wasn't able to find chervil in stores so I grew a patch which has now turned into a large garden of chervil. You can make your own fine herbes mixture for winter use – simply wash and dry a bunch of tarragon, chives, parsley and chervil, hand dry in a cool dark place for 1 month or until the leaves are thorough dry. Break off the leaves and crumble them into a bowl. The chives will need to be cut finely. Mix together and store in a glass jar. Sprinkle on fish and chicken while grilling.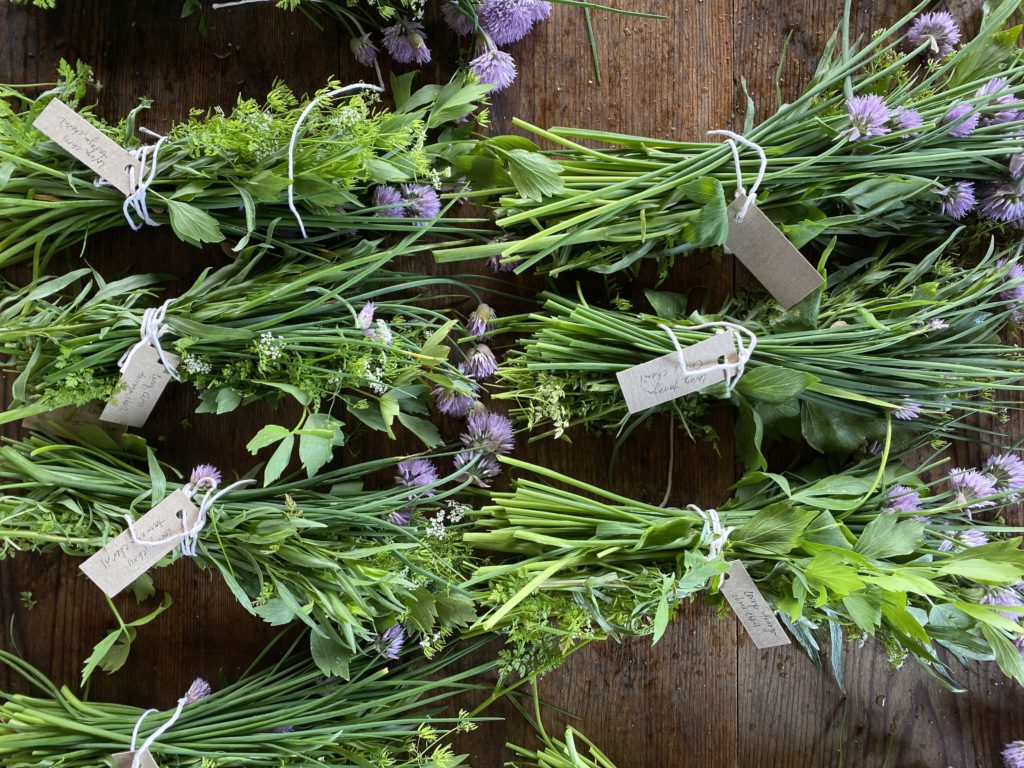 Herb Bundles
Over the years, I have always imagined having an herb drying cottage, a place where I could hang lots of beautiful herbs and use them all winter long. I did that for about one year and then became  too busy to keep on top of harvesting herbs other than what I use in my cooking and now in our farm kitchen cooking. Our kitchen garden has burst literally overnight full of fresh herbs which every Thursday, I bundle up to sell to customers as part of our orders. I have lovage with a distinct celery taste, three kinds of mint and thyme, basil, parsley, chervil, savouries, lemon balm chives, and garlic chives, tarragon, it's hard to keep track of everything I've put into the earth. I believe I could focus one business simply on teaching about and using herbs. I also love using fresh herbs in floral bouquets many have such beautiful flowers not to mention fragrance.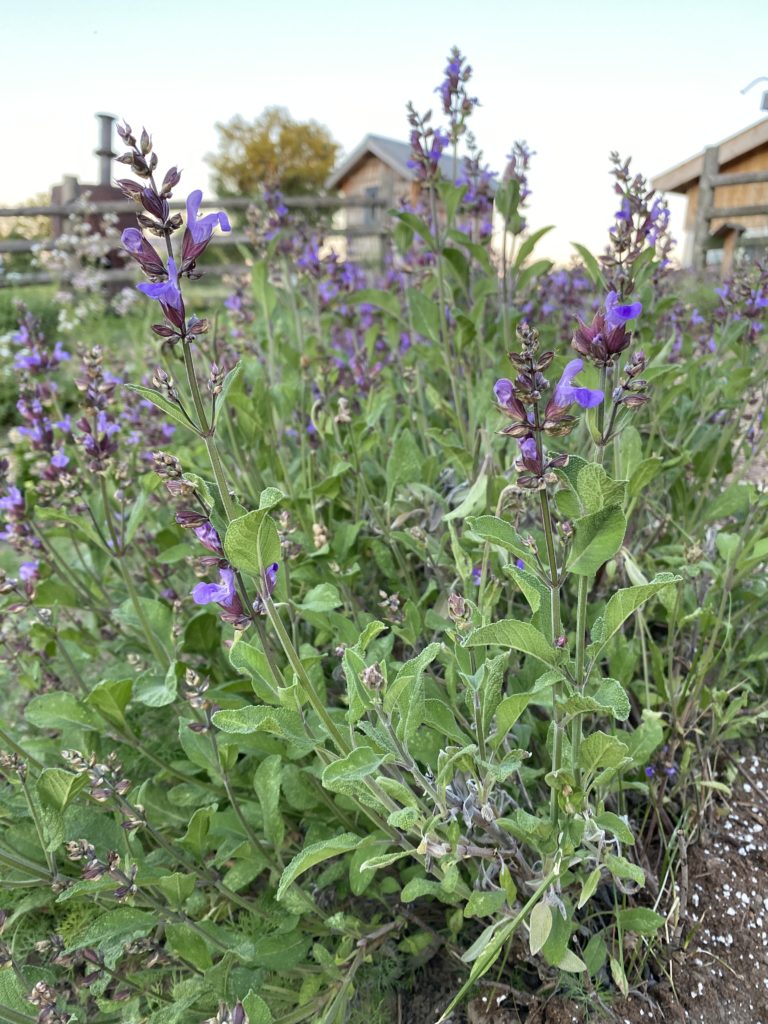 This recipe is one of my favorites and also a wonderful way to use up fresh herbs if you have a lot of them in your garden. Spoon over fresh asparagus or grilled salmon or use as a dip for vegetables. You can also thin the sauce out with olive oil and add more lemon juice or white wine vinegar and use as a salad dressing.
Basic fresh herb sauce:
1/2 cup each of whatever fresh herbs you have, finely chopped. Best for this sauce are:
Tarragon
Parsley
Chives
Chervil (if you can find it) or 
2 cups greek yogourt
Juice of 1/2 lemon and zest of 1 lemon
Salt and pepper
Combine all the ingredients well in a bowl and refrigerate. It will keep for several days.