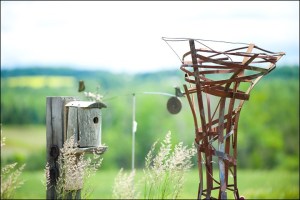 Art in the Fields is returning to South Pond for its second year, from June 29th to July 3rd, 2014. Last year, more than 1000 guests visited the property to see and buy the art and sculpture on exhibit. If you missed it, visit our photo gallery for a taste of last year's event.
---
A popular venue for special occasions, South Pond also hosts cultural events such as concerts, celebrations, dinners, and, of course, Art in the Fields. The farm's sweeping vistas of the Oak Ridges Moraine, its restored barn, blooming gardens, and tranquil pond provide a perfect backdrop for the art of all kinds, bringing together the physical, the spiritual and nature's own artful beauty. Art in the Fields highlights artistic expression everywhere you look—in the gardens, along the trails to the pond, throughout the fields, around the lawns, and inside the barn.
The show begins on Sunday, June 29 kicking off with an Opening Reception from 1 p.m to 5 p.m., including music and refreshments from the stone oven. It ends on July 3rd with Art and Ale from 5 p.m. to 8 p.m. Throughout the show, guests will be able to wander and experience the property and purchase unique art pieces.
You can experience Art in the Fields daily from June 29th to July 3rd from 11:00 a.m. to 5:00 p.m.
Watch this page for more details about contributing artists and various events that week!
2014 Artists
Kevin Batchelor – Sculptor Rita Benson – Fibre + Mixed Media Artist Libbie Burns – Fibre Artist Barb Callander – Photographer Shawn Cameron – Furniture Designer Sandy Cogar – Garden Sculptor Danielle French – Jewellery Artist James Goodliff – Painter Tina Hart – Stone Mason Tonya Hart – Sculptor David Hayes – Acrylic Painter David Hickey – Metal Artist Brenda Johnson – Quilter Rudy Kehkla – Wire Sculptor Jennifer Kneitas – Mixed Media Painter Hayward MacDonald – Wood Carver John Melo – Wood Carver San Murata – Guache Painter Pat Neal – Weaver Stan Olthius – Mixed Media Artist Ted & Sherry Oosterlaken – Concrete Artists Katherine Peterson – Quilter Susan Rankin – Glass & Garden Sculptor Clare Scott-Taggart – Metal Sculptor Mayah Sevink – Weaver Harry Stooshinoff – Acrylic Painter Dale Sutton – Fibre + Mixed Media Artist Jane Zdansky – Sculptor Jane Zednik – Oil Painter
2013 Artists
Jan Anderson – Quilter Rita Benson – Fibre + Mixed Media Artist Shawn Cameron – Furniture Designer Sandy Cogar – Garden Sculptor Barb Callander – Photographer Diana Collins – Oil Painter Danielle French – Jewellery Artist Don Frost – Sculptor David Hickey – Metal Artist Amanda Hill – Painter Jeff Jackson – Mixed Media Artist Rudy Kehkla – Wire Sculptor Barbara Kimball – Potter Bill Lockington – Photographer Erin Metcalf – Mixed Media Artist Cathy Mark – Metal Sculptor Cat Mcbride & Paul Fleming – Metal Artists Pat Neal – Weaver Dale Sutton – Fibre + Mixed Media Artist Dini Page – Weaver Jan Pierson – Silk Painter Judy Price – Acrylic Painter Susan Rankin – Outdoor Garden Artist Mayah Sevnik – Weaver Jennifer Kneitas Stanton – Mixed Media Painter Fred Thornhill – Photographer Peter Timmermans – Landscape Interpreter Dave Van Veghel – Acrylic Painter Williams Design Studio – Metal Art Zimart Rice Lake Gallery – Stone Sculpture